No child's play

Theatre has been a versatile means of artistic expression, communication and instruction for over 2,000 years. A form of art that has the creative potential to teach and persuade, theatre works as an edge between entertainment and education. While almost everyone agrees that the only reason for the existence of theatre is the passion shared by its artistes, when it comes to children's theatre we see passion only in the form of summer workshops or an annual affair with schools, which everyone presents with great fanfare.
Showcasing their talent, these young artistes perform in plays for their respective schools.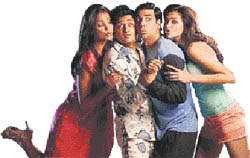 Lyrics, desi ishtyle
Call it a trend or a formula that sells, more and more Bollywood songs are using lyrics that comprise 'everyday' words
There is no way you could have missed the crazy, hilarious song of the upcoming flick Dabangg, 'muni badnaam hui darling tere liye', and remember how the song 'bidi jalai ley' ignited the dance floor at every discotheque and marriage function?

A still from Housefull

What a blend!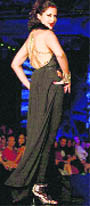 Actor Sushmita Sen and Sameera Reddy walked the ramp at the grand finale of Blenders Pride Fashion Tour (BPFT) over the weekend. Reddy, who walked the ramp for designer Neeta Lulla, said she was quite excited to showcase Lulla's designs."I have been always showcasing bridal or Indian outfits but today I wore a hot western outfit and I liked it very much. I am pretty excited about it," said Reddy. Lulla presented a collection of western attires fit for party and pubs. Sushmita Sen was the showstopper for another well-known designer Vikram Phadnis.Phadnis has showcased his latest collection of bridal wear at the BPFT. Sen, stated that Phadnis through his latest collection has refined the look of traditional Indian attire. "He has designed this mind blowing outfit for me. In fact whenever he designs for me his designs give me an edge. There is a certain amount of that 'IT' factor comes in," said Sen.
Birthday bash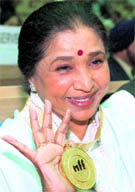 She continues to rule the charts with her golden voice but veteran singer Asha Bhosle, who turns 77 tomorrow, says she went through some very difficult times during her days as a struggler. Asha says that as a newcomer it was hard to convince musicians to hire her but is not keen on doing Bollywood playback anymore. "No one helped me. I would go begging for work. It was not easy as I had no godfather or someone to help me. A lonely person tends to make mistakes, it is always better to have someone to guide you. I had no one," Bhosle said. Bhosle, who has been the voice of more that 12,000 songs in a career spanning six decades, does not find Bollywood exciting anymore."I have been singing for so long. I will do playback only if something new and exciting comes my way," she says.
Show business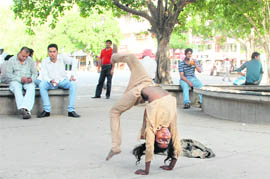 A child back flips in a bid to impress onlookers at the Sector-17 Plaza. Lifestyle photos: Pradeep Tewari

Evil design
Hollywood action star Sylvester Stallone wants to cast Bruce Willis as supervillain in The Expendables sequel. Stallone wants Willis, who had a small cameo role in the summer blockbuster, to lead the cast in an all-action follow-up. Despite initially claiming a sequel would be too expensive, Stallone appears to have been fired up by the film's success and he's now considering a second installment.
Quite tax-ing
British beauty Keira Knightley no longer calls England home as she has settled in the US to save taxes. The 25-year-old actor, has left Britain for the US to avoid the higher taxes in her native country.
Relics of the past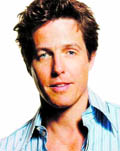 Hollywood actor Hugh Grant has said that he felt terrible when people in their forties dress like teenagers. Hugh says he finds it embarrassing when his peers try to look stylish, admitting he prefers to dress his age. "I think there is a tendency for all of us over 30 to dress too young," he said. "You walk down the street in New York or in London and all you see is people dressed as teenagers when they're in their forties. I think that's terrible," he added. The star said that woman has a great influence on a man's style.

Hugh Grant

Kate's obsession
Hollywood actor Kate Hudson says she is obsessed with scarves and boasts a collection of 200. Hudson admits she has spent a large amount of money on her one luxury indulgence and keeps her accessories in a cabinet specially reserved to display them.
She's Horrible!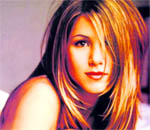 Hollywood superstar Jennifer Aniston is playing a "sexually aggressive" doctor who tries to blackmail a colleague in upcoming film Horrible Bosses. According to her co-star Charlie Day, the 41-year-old actor plays Dr Julia Harris, a blackmailer who tries to get his character Dale Arbus to sleep with her."Jennifer Aniston is sexually aggressive towards me and demands I sleep with her or she's going to blackmail me into making my fiancee think I'm sleeping with her," said Day.

Jennifer Aniston

Fan club
Glamour girl Mallika Sherawat, who is shooting for comedy film Double Dhamaal, says she finds Sanjay Dutt more appealing than she ever thought he is. "Met Sanjay Dutt... even more charming than I've heard, and even more handsome in person... Double Dhamaal is going to be a fun shoot," Mallika posted on her Twitter page.
Game for ramp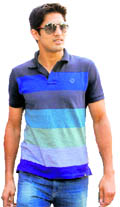 Olympic bronze medallist, boxer Vijender Singh, in the city, says there's nothing wrong with sportspersons endorsing brands
Well this is the irony; this is the way it is. There are more sportspersons walking the ramp than models! Have we missed out on the other flock that has taken fancy to the ramp as well — the actors. So, as per the present scenario, there are more actors and sportspersons walking the ramp than the ramp models themselves! Who is cribbing? None, we believe. In fact, it is rather interesting to see the blue brigade or pugilist Vijender Singh walk mostly in designer attires. You bet they love it! The boxer sure does. In the city to launch Nikes's Bleed Blue cricket initiative, Vijender Singh quite enjoys the 'catwalk' and working in advertisements that suit his style.
Dhoni leads
Indian cricket captain Mahendra Singh Dhoni has topped the chart for celebrity endorsements on television during the first six months of this year, leaving behind not only Shahrukh Khan and Sachin Tendulkar, but also the gorgeous ladies of the silver screen. During the January to June period, while Dhoni endorsed brands for 24 companies on TV, Shahrukh and Sachin were seen promoting the products of 16 and 15 firms, respectively, according to the Adex survey of TAM Media Research.
Berry special


Sudesh Berry is not a new face on big and small screen. Films like Border, Refugee, LOC Kargil and serials like Mata Ki Chowki, Agle Janam Mohe Bitiya Hi Kijo brought him to the fore as a versatile actor. He made his debut in Bollywood with Khatron Ke Khiladi in 1988 and has already done 40 films and more than 40 shows. We catch up with him as he makes a brief halt in the city, on his way to Amritsar.


Sudesh Berry

One-stop shop!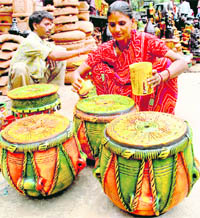 Lipakshee (north zone) is back with furniture and traditional handlooms from various states. Bright terracotta statues on rural themes in bright yellow, orange and green welcome one at Lajpat Rai Bhawan-15. Ornate mirror frames, wooden partitions, Rajasthani jharokhas, small stools, chairs and loungers from Saharanpur are the main attraction. "These days people prefer a combination of wood and iron," says Iqbal Singh, president, Akhil Bhartiya Dastkar Smiti. There are sweet, little chairs and tables for kids, easy chairs and carved stools.



Handicrafts on display at the exhibitionat Lajpat Rai Bhawan-15

Now, time for work
With PU students' council poll over, Manpriya Khurana digs into the agendas of those that call the shots
With voting done with, violence done away with, results having sunk in, even oath taking over, and the frenzy of the election mob surrounding 'the final four' settled; it's time to pause, take a re-look, define, redefine some serious issues and put them in a new perspective.
Read & right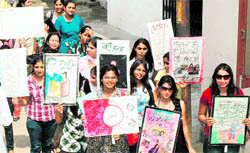 Everyone cannot join schools and colleges; the education has to be taken to the doorsteps of people, particularly in rural areas through extension programmes for prevention of diseases, environment protection and skill development. With this emphasis and the right spirit, the Department of Life Long Learning & Extension, Panjab University, celebrated International Literacy Day in village Khudha Lahora.

Photo: Pradeep Tewari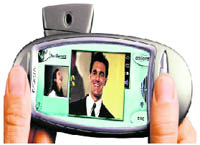 Say no to cellphones!
In this digital age, even parents have adopted high tech art of family discipline-by snatching cell phones, blocking Facebook pages, and pulling the plug on PlayStation. When Lantha Carley's high-schooler got a midterm grade report that contained letters of the alphabet that were not A, B or C, she decreed there would be no more Facebook until he delivered a report card with better grades.
Drink to it
A Scottish research has suggested that energy drinks really do help athletes improve their endurance and levels of performance. The study of young sportsmen and women found that consuming the drinks before and during exercise meant they could play in team games for longer than those who had not used the products.