Missing the fast lane
Geographical location as well as lack of industry and infrastructure have made Ferozepur one of the few areas in Punjab where the realty scene has failed to gain momentum over the years, writes Charandeep Singh

Ferozepur, which was one of the richest districts of undivided Punjab, now has nothing much to write home about as far as the realty scene is concerned.

A DATE WITH HISTORY, NOT PROSPERITY: The National Martyrs Memorial at Hussainiwala is one of the landmarks of the border district

GREEN HOUSE
Landscaping as a learning tool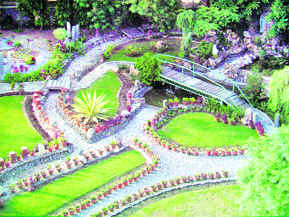 Satish Narula
There is ample awareness about the greening and beautification of surroundings among people.Even foreign collaborators take into consideration the 'working environment' before entering into collaboration. When we talk about landscaping vast expenses of estates, there are different ways and themes in which landscaping work can be carried out depending on the kind of premises.
Landscaping at St. Stephens School in Chandigarh. Photo by the writer

Steel strength
Ajay Banerjee
Use of steel frames instead of concrete pillars to build houses, apartment blocks, commercial warehouses is a concept that has been around in the West. Now the same technology that adheres to international building and safety codes will be available in India. Ludhiana-based Niagara Infrastructure Engineering and Architecture (NIEA) has tied-up with California-based Framemax, who are the pioneers in steel framing with production facilities at China and USA. The Indian production will take place at NIEA plant in Ludhiana.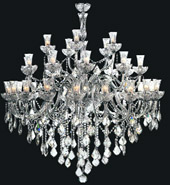 In Conversation
Chic Chandeliers
Sharmila Chand speaks to Sudhir Pasricha, General Manager, Lighting Division, Jaquar Concept Lighting, about the latest trends in chandeliers
Chandeliers have been considered like art pieces down the ages and are associated with grandeur and style. What's the latest trend in these? Fashion being a cycle repeats itself in intervals of time. From colour, material, form, function, application etc, all chandelier design attributes follow trends and brings about a new look every time. There are various aspects for chandeliers like designs and colours.
Tax tips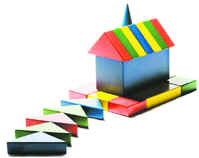 Gifting not a good choice
S.C. Vasudeva
Q. My father had purchased a residential plot for Rs 15,000 in July 1982 at Jalandhar. I and my father started construction of a house there in 2007. But the same could not be completed as I got transferred to Delhi in December 2007. The property is 85 per cent complete (wood work, sanitary work, face work and paint work is still pending) The cost incurred is Rs 10 lakh. After his retirement, my father is staying in his own house at Patiala. I want your advice on the following:
LAUNCH PAD
Avenue 71
CHD Developers Ltd. has launched the third phase of its premium residential township, Avenue 71—The Posh Life, project. Spread over an area of 16.5 acres, Avenue 71 is a premium project with G+4 / G+14 storeys located strategically in Sector 71, Sohna Road, Gurgaon, and worth over Rs 500 crore.