COLUMNS

THIS ABOVE ALL
TELEPROMPT
GOOD MOTORING
LIFE'S LESSONS
LEXICON

FOR CHILDREN

CROSSWORD
RHYME TIME

Earlier Feature
TELEVISTA

AUDIO SCAN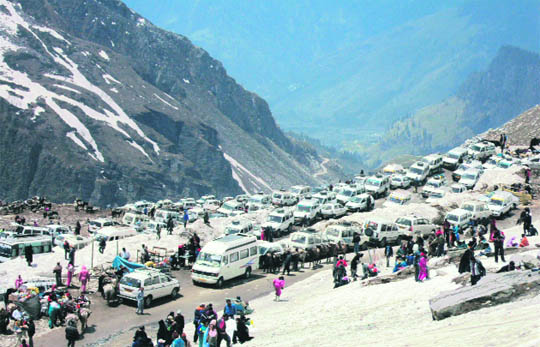 More than 8,000 vehicles, including taxis, come to Rohtang during the tourist season
The beauty of Rohtang has enamoured sages and statesmen alike, including Rishi Ved Vyas and Pandit Nehru. But this splendour has spelled doom for the pass, attracting hordes of tourists and destroying the fragile ecology of the area in the process, writes Kuldeep Chauhan
Despite its horrific literal meaning — pile of corpses — the Rohtang pass has always attracted visitors due to its sheer majestic beauty. According to folklore, even the legendary sage Ved Vyas, who authored the great epic Mahabharata, was not immune to its charms and is believed to have meditated in a snow-clad, secluded spot known as Beas Kund, near Rohtang.


"Pile of corpses"
Mughal-e-Azam, 50 years later
As the colourised classic is being re-released for the second time to coincide with Id festivities, Deepa Karmalkar checks out if the film, which had a historic premiere, still retains its charm
In 1960, Mughal-e-Azam premiered at Maratha Mandir, Mumbai, in regal grandeur as the print of the film was ushered in on elephant back to the roll of drums. "We were completely mesmerised! Prithiviraj Kapoor, Dilip Kumar and Madhubala had cast a spell then," recalls octogenarian Shrikrishna Ranade, who had attended that historic premiere. Forty-four years later in November 2004, he was fortunate to attend a lavish, star-studded premiere of the restored and colourised version of the classic at Eros theatre in Mumbai.


Salim recalls
Flaunt those anklets
Your jewellery collection is not complete if you don't own a pair of anklets, says Homai Sagar
Fashion pundits have given their verdict on the 2010 festival season wardrobe — and for one, hemlines are crawling up with determination. If it is a season for flashing well-toned legs, then it is also time to look for the perfect accessory for those ankles. The good news is that there are loads of them around — anklets, payals and toe-rings — and they are flying off the shelves like hot property.