Tip of Bhakra dam tilts, storage capacity to reduce
Nothing to panic about: BBMB
Jangveer Singh/TNS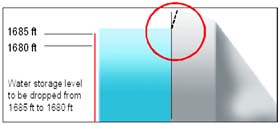 Chandigarh, September 12
Relentless rains and heavy inflows this season led to the tilting of the upper part of the Bhakra dam by more than one inch today, forcing the Bhakra Beas Management Board (BBMB) authorities to announce an immediate stop on any further filling of the reservoir.
Sophisticated instruments installed in the various galleries of the dam noticed the tilt, which is called deflection in technical parlance, and a decision was taken not to allow any further filling of the reservoir, keeping in mind the safety of the structure.
What this effectively means is that the dam authorities will not allow the water level in the reservoir to increase beyond the present 1680.17 feet.
The dam authorities have been facing flak from the All- India Power Engineers Federation, which had been calling for further filling of the dam, saying the water level should be allowed to increase by another five to six feet easily.
BBMB Member, Irrigation, M K Gupta, while talking to TNS said the safety of the dam was paramount to him and that the BBMB would maintain the present level. While this decision will not have an immediate impact on villages downstream the Sutlej, in case of heavy rains in the catchments excess water coming into the dam will be spilled. This could have a severe impact in villages along the Nangal-Ropar belt.
The BBMB Member, Irrigation, while explaining the phenomenon said the dam was like a saucer and said the upper part of the saucer, which had got bloated, had tilted. He said while this much tilting was within the technical parameters, the dam authorities needed to be cautious and not allow this to increase further.
What has the BBMB worried are reports that there may be more rainfall towards the end of September. Gupta said what worried him most was occurrence of flash floods, saying a margin of five feet was being kept for any such eventuality. The Bhakra dam has a maximum filling limit of 1,685 feet but dam authorities are being prudent this year due to above average rainfall as well as inflows.
The dam authorities also stated today that there was sufficient water in the dam to fulfil irrigation and drinking water needs of Punjab, Haryana and Rajasthan for the entire season till May 20 next year. They said in such a situation there was no need to fill the dam any further and endanger its safety.
Meanwhile, the water level at Bhakra was recorded at 1680.17 feet. The dam received slightly lower inflows of 21,000 cusecs today resulting in a reduced one-foot opening of the spillway gates only. The water level at the Pong dam is also at the maximum level of 1390.1 feet.