Obama visit: Nirupama Rao flying to US for groundwork
Ashok Tuteja
Tribune News Service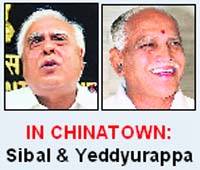 Amidst chill, ministers visiting China
Beijing: Amid concerns in India over a Chinese presence in Pakistan-Occupied Kashmir (PoK) and the denial of a visa to a top Indian Army General, two senior Indian ministers are slated to make high-profile visits here for talks with top Chinese officials.
Human Resources Development Minister Kapil Sibal arrived in the Chinese city of Tianjin today to take part in the Fourth Summer Davos Forum, beginning tomorrow. Karnataka Chief Minister BS Yeddyurappa is also in Beijing to attend the forum. — PTI
New Delhi, September 12
Foreign Secretary Nirupama Rao is leaving here for Washington next week to start the groundwork for US President Barack Obama's visit to India in November, amid sharp differences between the two countries over a plethora of issues, especially outsourcing and visa fees.
The visit will also provide her an opportunity to convey to her American interlocutors New Delhi's position on the Civil Nuclear Liability Bill, which was recently passed by Parliament since Washington has conveyed certain reservations over it to New Delhi. The tightening of the liability clause has not gone down well with the American companies wanting to participate in India's huge civil nuclear energy programme.
The two countries have planned a number of exchanges between them in the run up to Obama's much-awaited visit, which the two countries plan to showcase to the world as the event of the year.
Defence Minister AK Antony is also visiting the American capital towards the end of this month though there is not much possibility of the three military agreements that Washington is nudging New Delhi to ink coming through during the visit. Indian officials say New Delhi has still not made up its mind on the three accords, including a logistics support agreements (LSA) and the communications interoperability and security memorandum of agreement (CISMOA).
Washington says it has already inked the three "foundational agreements" it has offered to India with many of its close partners, and this has enabled the Pentagon to offer these countries the cutting-edge defence technology. They also allow the US to "share" the next higher level of technology.
Another important visit to the US from India ahead of President Obama's trip will be that of Commerce Minister Anand Sharma when the outsourcing issue could be dealt with at length by the two sides.
The foreign secretary's counterpart and US Under Secretary of State for Political Affairs William Burns will be in New Delhi next month to give final touches to the preparations for the President's visit.
President Obama, who will be accompanied by the First Lady, is said to be quite excited about the visit. According to US Ambassador to India Timothy Roemer, the November visit would be an 'extraordinary' one, since the President considers the Indo-US relationship as an indispensable partnership.