With no professional institutes to hone their skills, city DJs have no other option but to learn from their peers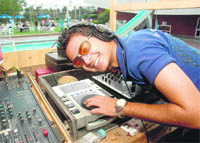 Whoever thought Deejaying is about that electrified hairdo, spiking the streaks, adding a tattoo, or a piece of stud? It isn't just about crescendo, beat per minutes, increase the tempo, turn the amplifier, or give a thud sound to the 60s hit single; what else, you need to know the pulse of the party with the crowd constantly jiving. Those behind the console are almost the "acoustic engineers" taking care of the auditory senses.

Dj Nakul


Itís For Real


For a long time now we have savoured the mush-dripping screen sagas, actors romancing babes half their age or double their age, flaunting hi-end fashion, delivering saccharine-sweet dialogues, dancing at some ultra-cool localesÖ We have lapped up every minute detail of Sooraj Barjatiya and Karan Johar productions. Then someone from outside squeezed in something different, something that we could relate to.


A still from For Real

Ripples on a foreign Ghat
Kiran Rao's Dhobi Ghat, which premiered at the Toronto International Film Festival (TIFF) on Friday night in the presence of the whole cast at the city's Elgin Garden Theatres, wowed the audiences with its artistry and fluidity.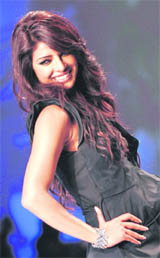 Picture Perfect

: Priyanka Chopra smiles as she poses for a picture during a fashion show in New Delhi on Saturday. Reuters photo
Eid ka chand?
Police today cane-charged several Salman Khan fans after they gathered outside his house at suburban Bandra hoping to get a glimpse of the Bollywood actor on the occasion of Eid-ul-Fitr.
Family planning
After losing her first child, pop star Lily Allen is living in fear of miscarrying her baby with boyfriend Sam Cooper.
Beyond Bollywood
Ready to adopt more kids as a single mother, Bollywood diva Sushmita Sen says her heart is now into other things besides acting in films. "Now my heart is into other things. As a 35-year-old woman, I cannot play an 18-year-old college girl in a film. I am happy with whatever I am doing. Yes, I am doing very little films, but I am doing them on my own terms," Sen said.
Braids-made
A former classmate of High School Musical star Zac Efron has said the actor used to ask girls to braid his hair in a bid to get closer to them.
Forty-fied
German model Claudia Schiffer, who recently turned 40, showed off her curves in a mask and stockings for a photo shoot.
Downsizing
Victoria Beckham's waif-like figure often raises eyebrows but the fashion designer has banned size zero models from her New York Fashion Week runway show.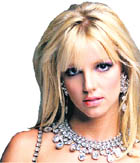 Guard-ian angel
A former bodyguard for pop princess Britney Spears has defended the singer's reputation after she was accused of sexual harassment by an ex-employee. Fernando Flores accused the'Toxic hitmaker of making sexual advances towards him while he worked for her, in a new lawsuit filed in Los Angeles recently. Flores also brought Spears' parenting skills into question after claiming he once witnessed the star 'savagely hit' her son Sean Preston with a belt. Earlier this week, a representative for the superstar dismissed the 'unfortunate' case as a way for Flores to 'make a name for himself'.
Brunch out!
Early lunches on weekends are the next big thing in the city
Sunday, the fun day, is only getting bigger and better for city folks. Eating out is no more restricted to late evenings or nights, its 'brunch' that has caught fancy of foodies here.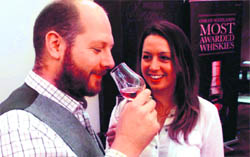 Drink to it!
Every drink comes with a unique style, makes for a fine blend. Stephen Marshall, global brand ambassador, Dewar's Blended Scotch Whisky, shared whisky tasting and blending sessions in the city on Sunday. Sounding thrilled, Stephen shared the Dewar's unique double-ageing process.



Stephen Marshall raises a toast

Pre-Partition pangs
Jallandar-based Punjabi writer Balveer Singh Parwana has captured the life of a common villager from the pre-Partition era to date in his novels spanning into four volumes under different titles.
Spice up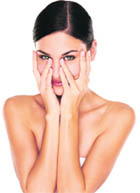 Bridal glow
Looking beautiful on the wedding day is not merely a matter of make-up, jewellery and clothes. It entails weeks of beauty care, well in advance. If a total beauty programme is followed for at least one month, before the wedding, it can really pay good dividends.Cleansing the face is of utmost importance, especially at night. For your daily care routine, cleanse your skin twice a day, morning and night. For normal to dry skin, use a cleansing cream or gel, applying it on the face with a light massage. Then, wipe off with moist cotton wool. Normal to oily skins need deep-pore cleansing. Mix rice flour or ground almonds with a little curd and apply it on the face two or three times a week.
Shedding the distance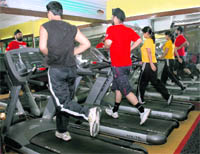 If distance is keeping you away from the treadmill, find a solution in your neighbourhood
Itís so convenient. It spares you from the everyday dilly-dallying of to go or not to the gym. When in the radius of mere two kilometers from your place, you donít need extra motivation to be regular at the gym. The chances of missing gym sessions would become less, which in turn means better fitness levels. Proximity to the gym thus matters. But before deciding on the gym in your neighbourhood, there are a few essentials that one must check and if the gym lacks these provisions then experts advise to travel farther.
Pump up the iron
One frequently comes across parents complaining about the poor appetite of the child or that their children have become very irritable and are always in a state of lethargy. Adolescent girls most often present with signs of easy fatigability and poor appetite.
Oral dosage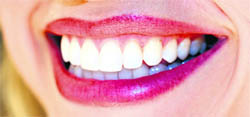 What possible connection can brushing teeth or flossing have with ones heart, pancreas, lungs or even an unborn child of a pregnant woman? None, would be the most common answer. But if a recent Canadian study is to be believed, if you are ignoring oral hygiene, you should not only worry about bad breath or decaying teeth but also your heart, pancreas and lungs too.
BODY wise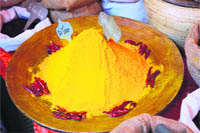 Spicy treat
Spices are a great way of adding both flavour and metabolism boosting properties to your meals. Not only do they make the food taste good, also help rev up your metabolism and increase the number of calories your body uses to digest†food. †By adding them to your current health foods, you can experience an enhancement in your weight loss, and improvement in your complete overall health.