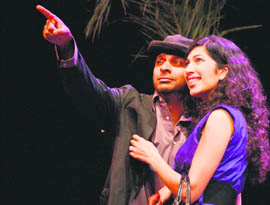 What's PLAYING
The lack of English theatre productions from the city is not only surprising, but also denying the 'play lovers' their bit of fun
Theatre - progressive, socially responsible, transitional, experimental and larger than life - catered to only a select few till not so long ago. But now, it has reached the masses, who are more than interested in watching it in any form.

Joy Sengupta and Shivani Tanksale in Love on the Brink

In high SPIRITS
Horror reality-show The Chair transports us to the land of the dead. Jasmine Singh catches up with the host of the show Swati Prakash
Statutory warning: This is subject to your discretion. If you believe in it, accept it and if you don't, move on!
Marble marvel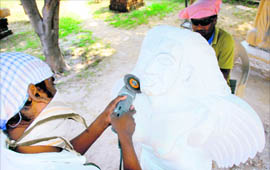 Art and its manifestations never fail to impress, whether it's a canvass with a Vibgyor painted on it or a stone that is carved out to perfection. K Gopalakrishnan creates art from the latter. The artist from Chennai is in the city for a 15-day workshop at Kalagram and working on his second contribution to the sculpture park there. "I had earlier done a sculpture in 2005 for the Kalagram sculpture park.

Photo: S Chandan

3D punch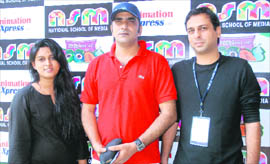 In the city, leading names from the animation world share notes from the industry & what lies ahead
Technology meant for the visual medium has a single point agenda - entertainment. So, when FICCI in its report says that animation industry is growing 10 times annually, the signals are clear - people are indeed getting entertained!

L-R: Vidhi, Virender Singh Rathore and Ashutosh Jaykar. Photo: S Chandan

Birthday gift
A crusader against social injustice, Gursharan Singh has been an inspiration for budding artistes. Holding a master's degree in technical chemistry, he remained a research officer till he revolted against the imposition of emergency in 1977, not only sacrificing his lucrative job but serving his time in jail twice. This finally led him to adopt theatre as a tool for social change.


Gursharan Singh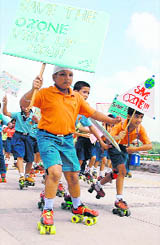 Spreading the message
On the World Ozone Day, about 100 students from Dikshant International School participated in a rally on skates at Sukhna Lake to increase the awareness on environmental changes amongst the city people. The children displayed placards containing messages such as - 'Say no to plastics', 'Plant more trees to save our ozone layer', 'Say no to products which contain CFC' and many others.








Students take out a rally on skates at Sukhna Lake

Renee Writes


Living apart
I have been dating this wonderful girl for five years. All has been well so far. Now that my girlfriend, who is an engineer, has been transferred to Delhi, I am in a mess. Although, we are in touch over the phone everyday and she re-assures me of her love I keep dreading that she is seeing somebody else over there. Each time I suggest she comes over, she has an excuse. She is an extremely attractive, smart and vivacious woman. I am plagued with jealousy, what should I do?
Relatively Speaking
Reality bites
Reality shows are a huge hit these days. However, these shows are affecting the way we view reality. Many of us begin to empathise with the participants and wish to be like them. But reality shows exhibit behaviour that is tailored to engage viewers. In reality, these models of behaviour are not what we want to emulate. A major drawback is that reality shows tend to promote a societal desire to be vociferous, and devalue privacy. Consequently, they seem to hit at our basic cultural roots. Television channels and sponsors control the life of participants, and naïve youngsters feel that this is what "freedom" is all about. But this has negative impact family ties.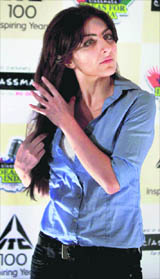 KHAN-DAAN: Bollywood actor Soha Ali Khan during a promotional event in Mumbai on Tuesday. — PTI photo
On a fresh note
Zodhita Health Solutions Pvt. Ltd, the Indian operations of Zodhita Inc. USA, announced the introduction of its ZUSKA range of personal care products in India. The range will consist of deodorant plus antiperspirant sprays, sticks, foot sprays, as well as deodorant soaps.
Jean therapy
Calvin Klein Jeans introduces Fall 2010 for men and women. The collection has improved design engineered to enhance aesthetics in a sultry way. The new ultra skinny and narrow leg denims for men and women have been designed for a lean, slim silhouette. The collection offers a variety of fits and washes in the X-denim range with an addition and introduction of Jeggings and denim dresses.
Off to Russia
Former beauty queen and actor Gul Panag is on the jury of the Kazan International Muslim Film Festival to be held in Russia."Off to Russia to be on the jury of the Kazan International Film Festival.
Pinto the princess
Slumdog Millionaire' star Freida Pinto is set to star opposite Spanish actor Antonio Banderas in a Hollywood period film. The film, titled Black Thirst, is directed by Jean-Jacques Annaud.It is the story of how America, in pursuit of oil, started targeting the Gulf as early as 1920.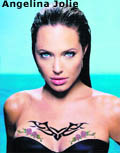 Those 'dragon' days
She is a dedicated mother and an avowed humanitarian now but Hollywood superstar Angelina Jolie had a "crazy" past and she says that her tattoos are reminders of her hell-raising days.The Academy winning actor who has a large collection of body art says that she did not plan most of her inkings.

Cut and paste
Ace Hollywood filmmaker Woody Allen has refuted reports he cut scenes featuring French first lady Carla Bruni from his upcoming film, insisting he's delighted with her work.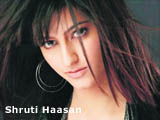 Shaping up
The usually slim and trim Shruti Haasan says she needs to regularise her workout regimen to get back into shape. "Going to work out starting today! I have been a very bad girl and not worked out properly in two months!!! Got to get back in some kind of shape!" she tweeted.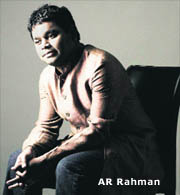 Autograph please
They may be big names in the Bollywood music industry, but music director duo Vishal-Shekhar did not shy away from asking music maestro for his autograph.They met Rahman on the sets of Zee TV's Sa Re Ga Ma Pa Singing Superstar -- the music maestro came with actor John Abraham to promote their upcoming project Jhootha Hi Sahi. Vishal was especially enthusiastic about his first meeting with the Oscar winner and urged Rahman for an autograph, said a source from the sets.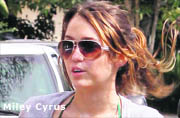 Wheel of misfortune
Teen star Miley Cyrus landed in trouble with the law as police caught her talking on her cell phone while driving.The Hannah Montana star was heading to a beauty salon in Hollywood on Monday when she was asked to pulled over for using her phone while she was still behind the wheel.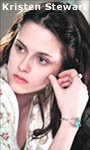 Poor, little, rich Kristen
Hollywood actor Kristen Stewart hated school because she was bullied over her acting career. Stewart, who landed her first acting role in television movie The Thirteenth Year when she was nine years old, hated the way she was teased by her peers over her early roles, in particular when she played a tomboy in The Safety of Objects. "I didn't walk around talking about doing movies, but then someone saw an old movie I was in, The Safety of Objects, and realised that the little boy in it had grown up into this girl - me. And then I got a lot of, she's such a b***h," she said.

Pretty women
Men are men. When it comes to dating, they love to be seen out with a curvy woman. But in a long-term relationship, like a marriage, it's a pretty female face which matters to a bloke, says a new study.