M A I N N E W S
AFSPA not arbitrary, says Army chief
Rise in infiltration bids in past two months
Chennai, September 18
The Army today expressed hope that the government will take a "correct" decision on the Armed Forces Special Powers Act (AFSPA) which it maintained was an "enabling provision" that is not "arbitrary".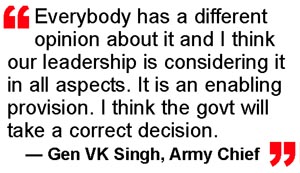 In the midst of a raging debate on the application of the AFSPA in Jammu and Kashmir, Army chief General VK Singh said there were "different" opinions on the issue. "The question is under deliberation with the government. Everybody has a different opinion about it and I think our leadership is considering it in all aspects. It is an enabling provision. It is not something which is arbitrary and I think the government will take a correct decision on what is to be done about it," he told reporters on the sidelines of a function at the Officers' Training Academy (OTA) here.
Asked if the AFSPA breached any contemporary international convention, the General said: "No. The Supreme Court has very clearly held that the provisions of the AFSPA are neither arbitrary nor are they against the Constitution of India."
"We have told the Ministry of Defence whatever the Army has to say and the matter is under the consideration of the government," he added.
The Army chief, who was here to review the passing out parade at the OTA, also said there have been more infiltration attempts into J&K in the past two months and "some elements" in Pakistan trying to exploit the unrest in the border state.
"In the past two months, approximately from the time this agitation started in Kashmir, infiltration levels have increased. We have seen more incidents. Attempts have increased and the number of terrorists killed has also increased," said Gen Singh.
On reports about the Chinese military presence in the Pakistan-occupied Kashmir, the Army Chief said it was not a cause of concern at the moment. — PTI