Bollywood's tryst with clans
With a torrent of star kids venturing into the film industry, the tinsel town has
become a sort of family-run business, writes Shama Rana

AFTER Sonam Kapoor, Luv Sinha and Ranbir Kapoor, the legacy of star kids foraying into Bollywood continues with Shatrughan Sinha's daughter Sonakshi (featuring opposite Salman Khan in Dabangg), and comedy king Govinda's daughter Narmmadaa Ahuja set to make their debut in the industry.
The last few years have witnessed a torrent of star kids venturing into the film industry to take a pot shot at what their parents did best. Bollywood of yesteryear was a place where a poor fruit vendor bearing the name Yusuf Khan went on to become a superstar and a legend of the Hindi cinema.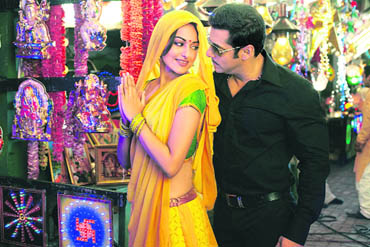 Shatrughan Sinha's daughter Sonakshi
with Salman Khan in Dabangg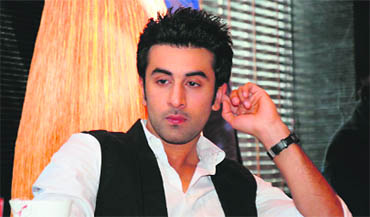 Ranbir Kapoor has taken the Kapoor legacy forward
with outstanding performances in movies
like Raajneeti and Wake up Sid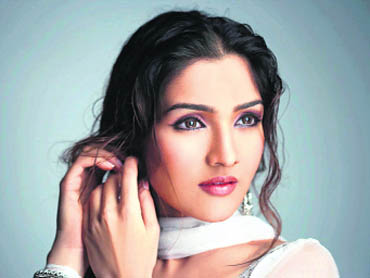 Govinda's daughter Narmmadaa Ahuja is
all set to make her debut in the industry

Similarly, A.R. Srivastava quit a cosy 9 to 5 job in Calcutta and struggled for 10 odd years before becoming Amitabh Bachchan. The wave of outsiders making it big in Bollywood blew well into the 1980s and 1990s and actors like Jackie Shroff, Shah Rukh Khan and Akshay Kumar made it big despite the absence of big surnames to their credit. Today, almost every debutante bears the surname of a famous actor, actress, director, producer, writer or even the secretaries of stars of the olden days.
The star kids, who have made scintillating impact on the screen, are Hrithik Roshan, Kareena Kapoor, Abhishek Bachchan, Neil Nitin Mukesh, Shahid Kapoor and a host of other names. Even coming from an influential lineage, each had to taste failure on many occasions.
When Abhishek Bachchan entered the filmdom, the comparison between him and his father, a living legend of Hindi cinema was bound to happen. But family connections did not seem the last word for the success of his maiden venture, Refugee. It is said if Abhishek Bachchan wasn't the son of the superstar, the industry would have shown him the door after his disconcerting career graph. But such is life.
The instances of star kids stepping into their parents' shoes is not new to the industry. The oldest dynasty in the film industry is, of course, the Kapoors. The first set of star kids to foray into the filmdom were three sons of patriarch Prithvi Raj Kapoor — Raj Kapoor, Shashi Kapoor, Shammi Kapoor. Then, the legacy went on to the shoulders of Raj's sons — Randhir Kapoor, Rishi and Rajeev. In the bygone era, women from respectable families keen to join film industry were not taken too kindly. Among the women stars, Shobana Samarth's daughters Nutan and Tanuja made their presence felt on the silver screen.
There are some star children who have tried to replicate or better the standard of performances their parents had set. With his first film, Kaho Naa Pyar Hai`A0itself Hrithik, son of Rakesh Roshan, was on top of the charts. The boy with a Greek God-like appearance had struck the right cord and become a heartthrob nationwide. The rest, as they say, is history.
Tanuja's daughter Kajol tasted success and rose to stardom within a short time. At 24, when she opted out of her career, she had given Bollywood some of the biggest hits of all times. Among these were`A0Baazigar, Dilwale Dulhaniya Le Jayenge, Kuch Kuch Hota Hai, Pyar To Hona Hi Tha, Hum Aapke Dil Mein Rehte Hain, Kabhie Khushi Kabhie Gham`A0and many others. Her younger sister Tanisha, however, missed the bus to fame.
Angry man of the celluloid, Dharmendra's son Sunny Deol started his career with soft and cute romantic films, then went on to become action hero with movies like Ghatak, Ghayal etc. Bobby, who debuted with Barsaat, gave a series of flops and some average films once in a while. The Dream Girl, Hema Malini and Dharmendra's daughter Esha Deol did inherit Hema's dancing skills in legacy, however, the same cannot be claimed about her acting. Now the young actress is said to be back to give it another shot. Jumping Jack, Jeetendra's son Tusshar could not manage to create the same magic as his father. However, Tusshar won accolades for his performance in the Golmaal`A0series and Shootout at Lokhandwala.
Ranbir Kapoor has truly taken Rishi Kapoor's legacy forward with outstanding performances in movies like Raajneeti, Wake up Sid etc. He has managed to stand out in most of his movies, irrespective of the fate of the film.
Rajesh Khanna and Dimple Kapadia's daughters Twinkle and Rinkie Khanna, too, tried their luck in some of the films before settling for marriage. Karisma and Kareena Kapoor, daughters of Randhir and Babita Kapoor have done the Kapoor clan proud. Before marriage, Karisma had proved her mettle in some fine films like Zubeida and Fiza. Kareena is the reigning queen of beauty and glamour and has done brilliant performances in movies like 3 Idiots, Chameli etc.
Bollywood can be clannish, and the scions of film industry have an edge in grabbing coveted roles. But for every successful star kid in Bollywood, there are more celebrity kids who couldn't make it, implying acting skills, and not family connections, is the last word for success in films. Dev Anand was an undisputed star of his times but his son Suniel Anand failed to repeat his father's success. Suniel Anand featured in a movie Anand aur Anand but even an impressive star cast couldn't save the film from sinking. After consistent flops, Suniel faded into oblivion.
Chocolate boy Kumar Gaurav shot into limelight after his debut venture Love Story. But after this super success, Kumar Gaurav managed to consistently deliver a string of flops. Then in 1986, Rajendra Kumar made a movie Naam to salvage his son's career but in an unexpected turn of affairs, it was Sanjay Dutt, who walked away with the accolades and made a comeback of sorts with the movie. Thus another epitaph was written for the career of a star kid.
Shashi Kapoor's son, Karan Kapoor, who is better known for his appearance in an advertisement of Bombay Dyeing debuted in a movie called Sultanat, directed by the legendary filmmaker late Mukul. The film failed at the box office leaving the actor in lurch. Shashi's elder son Kunal acted as a child artiste, primarily in his father's films. His first mainstream film was Ahista Ahista, where he was paired opposite Padmini Kolhapure. The film was a success but Kunal's career failed to take off. Kunal Goswami, son of Manoj Kumar, made his first appearance as a child artiste in Kranti, but his acting skills didn't amuse anybody once he grew up and he had to shut shop after movies like Ghungroo and Kalaakaar failed to click. After making his debut in the boxoffice disaster Bal Bramhachari, Raaj Kumar's son Puru Raaj Kumar disappeared from the limelight only to reappear as a villain Hamara Dil Aapke Paas Hai and Puru was reduced to making cameos in movies like Mission Kashmir, LOC Kargil, Umrao Jaan.
Just like Sanjay Dutt, who shot back into fame with a movie made for Kumar Gaurav, it was Amrita Rao, who stole the limelight in Arya Babbar's debut movie Ab Ke Baras. Arya, then, appeared as Aishwarya Rai's brother in Guru and also made an appearance in Chamku. Even Vinod Khanna's sons Akshay and Rahul stepped into showbiz, but they couldn't leave a mark in the industry. Disco King of yesteryear, Mithun Chakravorty's son Mimoh started off with Jimmy, a popular screen name of his father from a 1980s film. The movie is rumoured to have been shot three times over before it took to the screens. But it went on to become a big disaster of 2008.
Unlike Bollywood, favouritism doesn't find a favour in Hollywood. Nicolas Cage, who is actually Nicolas Coppola, nephew of the famous Hollywood director, Francis Ford Coppola changed his surname for the fear of being seen with scorn. Closer home, film industry has become a sort of family run business with people taking pride in the trend of introducing their kith and kin every two months.