Work @ home with Flexi routine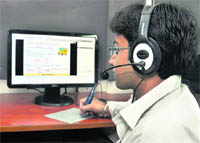 Shuttling between Jalandhar and Chandigarh four times a week was too taxing for 28-year-old Manjit Singh a couple of years back until he switched to telecommuting for his Chandigarh-based company from the comfort of his Urban Estate home in Jalandhar. Yes, this Western concept of working from a home-office is slowly gaining ground in the region.Unlike the West, daily long commutes coupled with traffic chaos and bumpy rides can be a nerve-wrecking experience for workers in India who have to travel long distances to eke out a living.

Anthropology brimming with options

Exciting world of Cheminformatics

Fit to be a coach
Careercature
Sandeep Joshi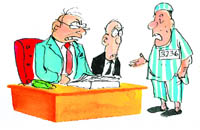 Sir, I left my previous job because I wanted freedom.


Work on your attitude

Right path
Pack some action in your
Before you dash off your resume to someone, remember to give it a decent new look for more attention. Just adding the latest accomplishments alone will not be sufficient to get good results. To draw the attention of the potential employer who may already be flooded with loads of resumes, you need to put in some more concerted efforts to give your resume a brand new look for more attention.
Bad boss, a dampener
Workers quit jobs to get rid of bad bosses even though they like their workplaces, says a new book.Workplace management expert Tony Wilson, who wrote the book Jack and the Team that Couldn't See, said bosses should look at themselves when staff resign, rather than blaming factors such as salary and workplace environment.
SECURITY AND INTELLIGENCE MANAGEMENT
The International College for Security Studies (ICSS), in collaboration with Israeli College for Security and Intelligence (ICSI), Asia's premier recognised security and intelligence training and education institution, has announced admission to various courses in Security and Intelligence Management at its college in Gurgaon.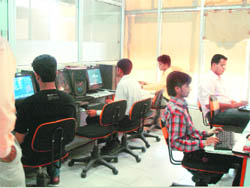 Gear up for hardware course
India is fast emerging as a world leader in the field of IT and there is a huge demand for skilled professionals not only in the IT sector but in the industries like insurance, BPO, banking, telecom and manufacturing among others. Today even a small organisation can't function without proper networking support. The organisations actually need not only hardware engineers but someone who is capable of implementing, administering, maintaining computer hardware, networks and overall security systems.
Happiness work
Avoid negative company
Gems of ancient wisdom
After being subjected to many troubles at her in-laws' place, Mirabai wrote to Tulsidas for advice. "Shun those who come in the way of your worship even if they are your close relatives," wrote the writer of the Ramacharitmanas. Mira left Chittor for Merta, her uncle's kingdom where she was lovingly welcomed.