M A I N N E W S
Dhaka okays crucial highway link to Kolkata
Will boost transit facilities, reduce distance between northeastern states and W Bengal
Ajay Banerjee
Tribune News Service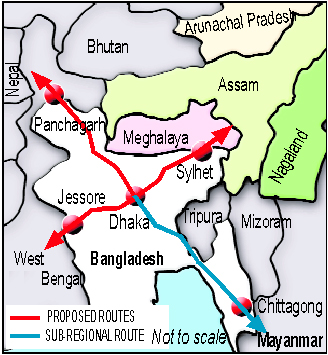 New Delhi, September 24
In major development, India's eastern neighbour Bangladesh has finally agreed to start the construction of a highway that will not only provide transit facilities, ensuring easy movement of goods, but also drastically shorten the circuitous route — crucial from the military point of view — between northeastern states and the port city of Kolkata.
Sources said Bangladesh has promised to start the construction work in the next few weeks. The project — to be primarily financed by India — is part of the larger Asian Highway network project connecting the Asian nations. The highway project between India and Bangladesh had been hanging fire for more than five years, with Dhaka stalling it for one reason or the other — primarily due to pressure from Pakistan and China.
The change came after the Sheikh Hasina Government came to power and in July 2009 Indian negotiators managed to push Bangladesh to ink the intergovernmental agreement. However, the construction work didn't take off. "But now, following cooperation from Bangladesh and persuasion from India, the last obstacle has been cleared ," said sources.
Two routes have been okayed. The first one will enter from Bengal into Bangladesh at the existing Benapole land port on the border and run across eastwards via Jessore and Dhaka and passing through Sylhet, located on the northeastern edge of Bangladesh, it will enter Assam/Meghalaya.
The second axis will start from North Bengal and enter the neighbouring country at Panchgarh and run southwards via Srirajganj to Dhaka and further southeast to Cox Bazar and Chittagong before entering into Mayanmar. India will be able to use both routes.
Once ready, the highway will solve India's major problem of moving goods into northeastern states of Nagaland, Tripura, Mizoram and Manipur. At present, it can take up to five days for a truck from Kolkata to reach these areas, adding up to the costs besides the time delay.
Similarly, the highway will give the northeastern states a better and a speedy access to the sea port.
Originally, the intergovernmental agreement on the Asian Highway Network was adopted in November 2003 in Bangkok and opened for signature in Shanghai, China in April 2004 and thereafter at United Nations Headquarters in New York between May 2004 and December 2005. Some 29 Asian countries had signed the agreement in 2004.