Ambala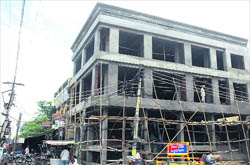 Ambala is mainly divided into two parts - City and Cantonment. The transit city between the national Capital New Delhi and capital of Punjab and Haryana, Chandigarh, Ambala witnesses a lot of tourist rush as they cross through it en route different locations in Jammu & Kashmir, Himachal Pradesh and Punjab. This locational advantage has directly affected the real estate market in the city with demand for newer commercial properties rising considerably in the past few years.
Construction in full swing at Gita Gopal Chowk in Ambala Cantt Photo: Dev Dutt Sharma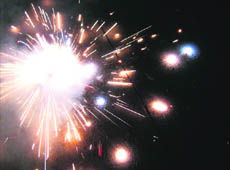 Festive fervour
The Indian real estate market has surely matured, especially in terms of the buyers that drive it. The recent downturn taught property buyers some valuable lessons when it comes to what matters and what doesn't. For that reason, we are going to see an interesting new variation to the usual excitement that the festival season usually creates on the residential property market.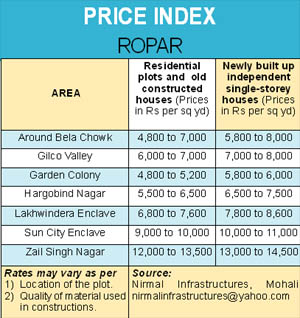 Celebrating Green
September 23, was observed as Green Building Day and this week is being observed as the World Green Building Week under the aegis of the World Green Building Council.
Tax tips
Utilising sale proceeds
Q. I am a government servant. In 1989, I purchased land in a registered society for Rs 47,000 in Lucknow, and gave it to a builder for construction of a house under builder's agreement; the cost of the house was Rs 2,53,000 (Total cost house = Rs 3 lakh). Both the society and the builder were one party only, and it was all probably done to reduce the cost of registration. I had also taken a loan (Rs 1.2 lakh) from LIC for this house. I have repaid the loan completely, and the registry is in my possession.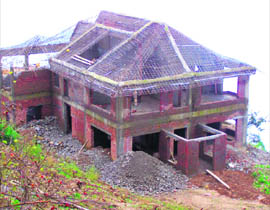 Priyanka's cottage runs into rough weather
Priyanka Vadra's dream cottage, being built in the wooded Charabra hills near here has run into rough weather — literally. Heavy rains have washed away her plans of having a slate roof and this is now being replaced with steel. Priyanka was very particular about the slate tiled roof. She had even selected multi-coloured slates procured from the hill state.

The dismantled rooftop of Priyanka Gandhi Vadra's cottage near Shimla in Himachal Pradesh. The roof will be re-laid with steel instead of slate tiles IANS Photo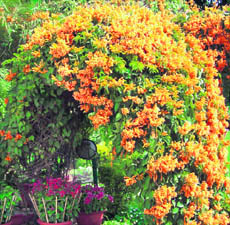 GREEN HOUSE
Aesthetic camouflage
Take into consideration any premise — big residential complexes, institutions, marriage palaces, clubs, religious places, hotels or schools and colleges — and you will find some areas which are either never developed or are always in a state of neglect. The area or structure may also be vulnerable to repeated damage due to some reason. It is true also of the garden work areas or your own small nursery where manure or manure pits may be lying exposed and serving as an eyesore. In the societies or even public premises, there could be a garbage dump right in the front.
The golden shower provides an excellent "cover", especially in sunny areas Photo by the writer

IN conversation


Scoring on Italian experience
Italian premium wellness brand, Novellini, a company with 200 million euro turnover, has completed one year in the Indian market. Its products range from shower enclosures, equipped panels, steam cubicles to hydro massage bath tubs. Novellini, has partnered with Cera Sanitaryware Limited, the leading bathroom solutions provider in India, for launching its products. Giovanni Orlandi, Export Manager, Novellini SPA

TRIBUNE IMPACT
MC acts
Taking cognizance of the report "Caught in a legal tangle" published in Real Estate (September 4, 2010) highlighting the unabated sale-purchase of land in illegal colonies in the Sangrur area, Municipal Council has installed the boards carrying the names of the illegal colonies at three different locations in the city. The MC notice boards advise the buyers not to buy land in these colonies as no facilities will be provided in these illegal colonies.
Nirman Ratna Award
Vidush Somany, Executive Director of Cera Sanitaryware Limited, was awarded the Nirman Ratna 2010, by Gujarat Institute of Civil Engineers & Architects in the building material and manufacturing category. Nirman Ratna awards were instituted by GICEA and AIM to felicitate professionals, who have made notable contribution in the construction business.
Omaxe bags 200 cr Defence Ministry project
Omaxe Infrastructure & Construction Ltd (OICL), a wholly owned subsidiary of real estate company Omaxe Ltd. has been awarded another contract from DGMAP (Director General Married Accommodation Project). The contract entails OICL to construct a residential accommodation for defence Junior Commissioned Officers (JCOs) and other ranks (ORs) at Mhow, Indore (MP). The project is pegged at Rs. 202.72 crore. Apart from this, the company had also bagged a contract worth Rs 127 crore to construct a residential complex for defence officers at Nagrota-Jammu and Kashmir recently.
LAUNCH PAD
Gaur City
New Delhi: The Saviour and Gaursons partnership has launched the Gaur City-2 project in Noida. Located on 130 acres, Gaur City is a fine amalgam of high living ensconced not only by the greenery but amenities such as stadium, mall and multiplex, Olympic size swimming pool, six lakh sq. ft. club, hotel, hospital and schools among others.