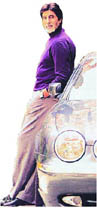 PAASHA
of portrayal
Amitabh Bachchan's magic has endured much beyond that of his contemporaries. With the National Award for Paa being the latest feather in his much-decorated cap, the indefatigable actor tells Jyothi Venkatesh about his future films, the upcoming KBC 4 and more…
AMITABH Bachchan is one actor who has indeed stood the test of time and his recent National Award for Paa bears testimony to that. Other actors who started their acting careers around the same time as him are no longer in the race today — like Navin Nischol or, for that matter, Anil Dhawan — whereas Amitabh is having the best of both the worlds, television as well as films.
Disaster sites
Parents are unable to stop their children from sitting constantly at the computer. By inculcating family values and developing a bond of trust, the pitfalls of networking sites can be overcome, reports Surekha Kadapa-Bose
WHEN half a dozen residents of a middle-class housing colony in Goregaon, Mumbai, came knocking on the Shedges' door at around 10 pm, the family of four was watching TV.
Blogging for style
Grameen Bank, America, was introduced to New York in 2008, and continues to flourish, reports Sheeba Singh from Ottawa
NEW York Fashion Week has long been the realm of magazine editors and department store buyers, but now a growing number of online fashionistas are wielding some unlikely industry influence.
A bridge across time
Hugh and Colleen Gantzer visit the ruins of Hampi. Situated on the banks of the Tungabhadra river, this beautiful, planned city was once the capital of the Vijayanagar empire
IT was, once, the Chandigarh of the ancient times in South: a beautiful, planned and vibrant city. Its planners had provided 'sectors' though they didn't call them that — for the city's VIPs, ordinary citizens, shrines, administrators, traders, armed forces, sportspeople and, very pragmatically, also for those in search of the self-indulgent good life. Even Corbusier didn't go quite that far.
Going bananas over wine
THE question why wild banana was a favourite of elephants made Arunachal Pradesh's Pankaj Awasthi to experiment with the fruit in making wine from it. The sugar content of bananas make it the best ingredient for making wine, says Pankaj, who has a two-year degree in alcohol technology from the National Sugar Institute, Kanpur.
Edible roses
These roses belong to the same species as non-edible ones, but the fertilisers have to be organic
Ecuador has long been a major exporter of big bulbed, colourful flowers that please the eye and the nose. Now its farmers are exploring a new idea — roses that you can eat.
Bharatnatyam on South African beats
South African dancer-choreographer Nhlanhla Vincent is a leading Bharatnatyam exponent and a devout Shiva worshipper, writes Madhusree Chatterjee
THE end of apartheid in South Africa freed dancer-choreographer Nhlanhla Vincent Zwane from his creative isolation. Today, he is a leading Bharatnatyam exponent in his country and a devout Shiva worshipper at that.
Quirky cops
Given the stupendous success of Dabangg, it won't take the filmmakers long to turn the good-bad cop into a formula and dish out Chulbul Pandey clones. Deepa Karmalkar digs out some more such Bollywood cops, who struck a chord with the viewers
EVER since Bollywood cops stopped being either too upright and honest or terribly corrupt and decadent, they became more acceptable to viewers.
Woman directors call the shots
Robin Bansal
Bollywood, for long considered a male-centric industry, is no more an alien world for women directors — if the success of Anusha Rizvi's Peepli Live and Rajshree Ojha's Aisha is any indication. Women are confidently going behind the camera to call the shots.


Acrobats form the word 'Mexico' during celebrations as Mexico recently marked its 200th anniversary of the day rebel priest Manuel Hidalgo set it on path to independence in the city. Tens
of thousands of Mexicans thronged the streets to celebrate the bicentenary of Mexico's fight for independence from Spain, even as mounting drug violence took a toll on national pride
Photo: Reuters