ALL SET FOR THE BIG BASH
n India's biggest-ever sporting extravaganza begins today
n Spectacular opening ceremony for Commonwealth Games at 7 pm
n Record 6,700 athletes from 71 countries to compete
n 50,000 policemen, 3,000 CCTVs and 15 bomb squads for security
Jyoti Rai
Tribune News Service
New Delhi, October 2
The aerostat, put together at a cost of Rs 40 crore, and the Great Indian Journey, a peek into Indian culture, would be the highlight of the opening ceremony of the 19th Commonwealth Games on Sunday. The ceremony promises a spectacular experience for the 60,000 spectators in the Jawaharlal Nehru Stadium and for the estimated 3 billion people who could watch it on television.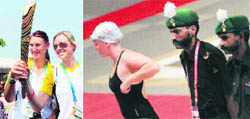 An England swimmer adjusts her costume as Indian Army soldiers sporting specially grown moustaches rehearse the medal ceremony at the SP Mukherjee Aquatics Centre pool; South African athletes hold the Queen's Baton as it arrives at the Games Village and artistes wait to perform at the Games village on Saturday. — PTI/AFP
Already a record 6,700 sportspersons from 71 countries are participating in the Games. Delhi has become a fortress with 50,000 policemen, 3,000 CCTVs, 15 bomb squads and several SWAT teams and specially trained sniffer dogs to provide security cover for the Games.
The two-and-a-half hour opening ceremony would include a 45-minute cultural show put together by 7,000 performers, showcasing the talent, variety and heritage of the country.
From classical to contemporary dances, music medleys, colour schemes, handicrafts, handlooms, top of the line animation to the top cultural starts performing, there will be something for everyone at the ceremony, boast organisers.
The opening ceremony has been planned by a core creative group led by Javed Akhtar, Shyam Benegal, Prasoon Joshi, Bharat Bala and Wizcraft. The first 10 minutes of the ceremony will exhibit the rich textiles and traditional crafts of India. It will showcase the rich heritage, art and craft of handloom weavers and artisans of India.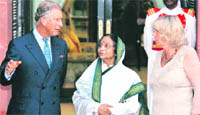 Prince Charles and Duchess of Cornwall Camilla Parker Bowles with President Pratibha Patil at Rashtrapati Bhawan in New Delhi on Saturday. — Mukesh Aggarwal
The ceremony has been divided into six segments - Rhythm of India, Swagatam, Tree of Knowledge, Yoga, Great Indian Journey and A.R. Rahman's rendition of the CWG anthem. Rhythm of India will be a blend of different drums from India and will involve around 1,000 drummers creating a symphony.
It will then move on to welcome songs which involve prominent singers, like Hariharan, Ranjit Barot and Taufiq Qureshi. Next will be a 10-minute-long segment named the "Tree of Knowledge" put together by nearly 1000 classical dancers from several states. A collage of six different Indian classical dances, including Bharatnatyam, Kathak, Kuchipudi, Manipuri and Odissi has been choreographed under the act.
The final attraction of the ceremony will be the performance by Oscar winning composer AR Rahman. He will be singing the Games anthem and his popular film numbers.
Opening Ceremony
n Glimpses of Indian culture in six parts for the opening
n 1,000 drums of India to create sound effects
n Aerostat and fireworks are the star attractions to light up stadium
n Spectators asked to take seats by 5.30 pm, VIPs by 3 pm
n No parking allowed in vicinity of sporting venues
n People advised to use public transport to get to the Games
n Shuttle buses will be provided between parking lots and venues
n Metro to run every 2.5 minutes in the city
Tight Security
n 29,000 policemen
n 195 companies of para-military forces ( 18,000 men)
n 3,000 CCTV cameras in and around the venues
n 200 specially trained dogs
n 15 bomb disposal squads
n SWAT teams
n Aerial surveillance
Highest Participation
n Over 6,000 athletes have already checked into the Games village
n The Organising Committee expects to host 6,700 athletes in all
n Melbourne Games involved 5,700 athletes
n This is the biggest, multi-disciplinary sporting event hosted by India after Asian Games hosted in 1951 and 1982
n Athletes from all 71 countries, former British colonies, expected to participate in the 17 sporting disciplines
Weather Report: All clear
On the opening day, there will be a clear sky for most of the day though in the morning till around noon there will be some 'cloudiness'. Day temperatures will hover between 31 and 34 degrees Celsius but during the opening ceremony in the evening it would be a pleasant 28 degree Celsius.
Delhi Gears Up
n Shops will remain closed in Delhi
on Sunday to avoid rush
n Schools, colleges already closed
for festival vacations
n Cinemas, multiplexes and malls also shut down
n Organisers hope to reduce traffic congestion on roads
n Commercial flights over Delhi to remain suspended between 5 pm and10 pm
n Metro to run 180 trains at two and a half minute intervals
n People holding tickets for the opening ceremony will have a free ride on the Delhi Metro