M A I N N E W S
Now a strong case for 2020 Olympics
IOC chief visits the Games Village, comes out impressed
New Delhi, October 3
Despite the controversy-marred build-up to the Commonwealth Games, International Olympic Committee (IOC) president Jacques Rogge feels India has set a "good foundation stone" for an Olympic bid in future.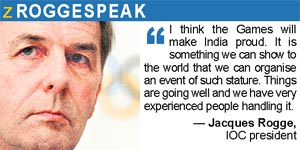 "There is a difference between the Olympics and the Commonwealth Games. The Olympics is bigger and more complicated. But I think India has set a good foundation stone for the Olympics bid and a successful Commonwealth Games can help India mount a serious bid for Olympics," Rogge said.
"I think the Games will make India proud. It is something we can show to the world that we can organise an event of such big stature. I think everything will be fine. The things are going well and we have very experienced people handling it," Rogge was quoted as saying by a news portal.
The IOC chief gave a thumbs up to the security arrangements put in place for the Games.
"The security is good with a lot of discipline very well applied. It is not intrusive. It is oppressive," he said.
He said India being the second-most populous country in the world must get more gold medals in the mega event. "We need more gold from world's second most populous country," he said.
Asked to give out a message to the country ahead of the Commonwealth Games opening ceremony, Rogge said that more and more youth of the nation must be encouraged to pick up sports.
"My message to India is practice sport. Sport is education, sport is health and sport is joy. More youth in the country must practice sports," he said, adding that his expectation from the Commonwealth Games is the "welfare of athletes". — PTI