The aged must prefer healthy diet
Manju Wadwalkar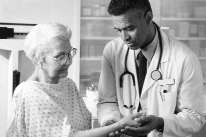 Though one's physical abilities decrease in old age and general health deteriorates, it is mental health that plays havoc with the elderly's lives. Post-retirement isolation from the active world makes them mentally and socially insecure. Financial uncertainty and loneliness cripples them emotionally. Depression sets in often which affects the appetite, leading to malnutrition.
Urbanisation has led to the nucleation of the family, resulting in a decrease in the support for the elderly. In nuclear families, older people neither have physical company nor emotional support. As a result, depression sets in, especially in the case of those who are suffering from a disease and are financially dependent on their offspring. Loneliness leads to disinterestedness in life. A depressed elderly is not in a state of mind to think about his or her health and develops a tendency towards self-neglect.
Elderly patients with unintentional weight loss are at a higher risk for infection, depression and death. The leading causes of involuntary weight loss are depression (especially in the residents of long-term care facilities), cancer (lung and gastro-intestinal malignancies), cardiac disorders and benign gastro-intestinal diseases.
The self-neglecting elderly are unable to consume adequate nutrients through regular meals and live a dejected life. A major study in an American journal stated that self-neglectors had a lower status of Vitamin D, Vitamin E, Folate, Vitamin A and Vitamin B-12. These deficiencies may lead to old age illnesses like dementia and Alzheimer's disease.
Interventions appropriate for addressing nutritional deficiencies may include one or more of the following actions:
Remove or substantially modify dietary restrictions (liberalise the patient's diet)
Encourage the use of flavour enhancers and frequent small meals
Offer liquid nutritional supplements for use between (not with) meals
Improve protein intake by adding meat, peanut butter, or protein powder
Treat depression with anti-depressants that do not aggravate nutritional problems
Remove or replace medications that have anorexia-producing side-effects
Evaluate swallowing as well as functional ability to manage eating
The National Nutrition Monitoring Bureau of India conducted numerous surveys on the aged people, which revealed that a majority of the older persons suffered from chronic energy deficiency. There was a dirth of micronutrients in their diet. Their food lacked in vitamins like beta carotene C and E as well as minerals like selenium, zinc and calcium.
The National Institute of Nutrition recommends proper nutrition and physical activity for the elderly for the betterment of the immune functions of the body. Micronutrient supplementation with vitamins and minerals shows marked improvement in the health of the aged.
At least 200-300 ml of milk in any form should be consumed daily. About 400g of fresh vegetables and fruits should be taken everyday to take care of fibre, micronutrient and antioxidant requirement of the body. Oil or ghee intake should not exceed 20g/day. Saturated fats or oils should be avoided. Spicy and hard foods cause stomach distress. Frequent, small meals are the best. Plenty of fluids and semi-solids aid digestion. Refined and fried foods spoil the stomach leading to the loss of nutrients. Dalia, khichadi, upma, poha, methi parantha, sprouted green grams, suji or rice kheer are some of the easy-to-cook dishes. Ready-to-eat recipes include home-made black gram laddus, chidwa and biscuits.
To digest food and to remain mentally active, the elderly should exercise regularly. Walking as an exercise is strongly recommended. Moderate exercises strengthen the immune system and protect against osteoporosis, cardiovascular diseases, diabetes and various types of cancer.
Older adults need to be careful in selecting their diet as aging changes the nature of their digestive system. The nutrients required for energy are carbohydrates, proteins and fats. Those that help to remain disease-free are vitamins and minerals. Water and dietary fibre help in digestion and cleansing the body.
In a study published by the American Journal of Clinical Nutrition, the authors found that a diet with less fat, saturated fat and cholesterol, and more carbohydrate, fibre, vitamins (especially folate, vitamins C and E, and beta- carotene) and minerals (iron and zinc) may be advisable not only to improve the general health of the elderly but also for cognitive function.
Fibre prevents constipation, lowers blood cholesterol and reduces the risk of cardiovascular diseases and some cancers. Fruits, vegetables, nuts and grains contain dietary fibre. Daily 20-30 grams of fibre intake is ideal. Guava, apple, orange, pear, banana, chick peas, carrot, cabbage, lady-finger, moong dal, red gram, peas, potatoes, tomatoes, peanuts and almonds are some of the ordinary foods that are easily available having a reasonably high content of fibre.
Vitamin A, vitamin C, folic acid, calcium and zinc prevent from diseases and are a must in old age. Deficiency of Vitamin A may cause night blindness, loss of appetite, dry skin and lowered resistance. Chicken liver, milk, eggs, mustard, spinach, carrot, pumpkin, papaya, watermelon and mango are some of the common eatables that provide enough Vitamin A to the body.
Vitamin C in the body aids in the absorption of iron and fighting infection. Chronic deficiency of Vitamin C may cause scurvy, bleeding gums, fatigue and depression. Guava, lemon, orange, mango, papaya, cabbage, amla and tomato are full of this vitamin and should be used daily.
Folic acid helps maintain the body's cognitive function and regenerates cells. It is essential for the elderly. Its deficiency may cause anaemia, dementia, depression, fatigue and irritability. To consume folic acid, the ideal foods are beans, red gram, green mustard, cooked spinach, green peas, chicken and eggs.
Calcium deficiency causes muscle contraction, muscle pain, spasm, numbness and osteoporosis. Calcium-rich foods like yoghurt, fresh milk, spinach, cheese, soyabean milk, almonds, vegetables and fruits help maintain bone health through bone development and repair. Calcium is also good for nerve transmission and regulation of the hard muscle function.
Lastly, water has to be taken regularly. It is essential for digestion, absorption of food, blood circulation and excretion. It regulates body temperature and lubricates the joints and abdominal viscera. Six-eight glasses a day are essential. Liquid food such as soups, curries and healthy drinks help tremendously.
The writer is associated with the PGI, Chandigarh.