GOLDEN DAY FOR INDIAN SPORTS
Wrestlers, shooters bring India five golds at Cíwealth Games
Tribune News Service & PTI



(Left) Anil Kumar celebrates after his gold haul in 96-kg category. Wrestler Ravinder Singh (Right) with coach Satpal.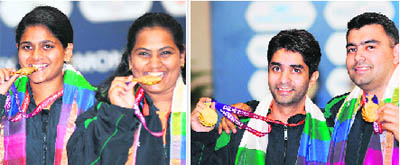 Anisa Sayeed (L) and Rahi Sarnobat after winning 25m pistol event; Abhinav Bindra and Gagan Narang got gold in 10m air rifle pairs event. Photos: PTI/ AFP
New Delhi, October 5
Two pairs of shooters were bang on target while the grapplers made a clean sweep of all three titles at stake as India grabbed five gold medals to climb to the second spot in the medal tally, below just Australia, in the Commonwealth Games today.
The Indian menís 10m air rifle pair of Olympic gold medallist Abhinav Bindra and world record holder Gagan Narang started the gold rush for the country in the morning which was sustained by women shooters Rahi Sarnobat and Anisa Sayeed who picked up the pairs 25m pistol event for women in style.




Anil Kumar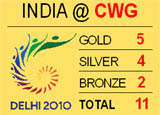 Two more silver medals came Indiaís way from the Dr Karni Singh shooting range before Greco-Roman style grapplers Ravinder Singh (60 kg), Sanjay (74 kg) and Anil Kumar (96kg) made a clean sweep of all three gold medals on offer from the wrestling mat to round off a splendid day for the hosts.
The two silver medals were earned by Deepak Sharma and Omkar Singh, in the menís 50m pistol pairs event, and the womanís duo of world champion Tejaswini Sawant and Lajjakumari Gauswami, who stood second in the pairs 50m rifle 3 position.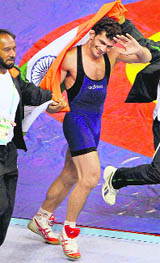 Wrestler Sanjay takes a victory lap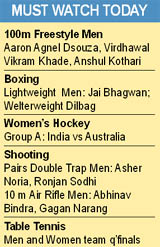 The five gold and two silver medals boosted the hostsí overall medal tally to 5-4-2 on the second day of competitions after the weightlifters gave the country two silver and as many bronze medals yesterday.
The day commenced in scintillating fashion for India when Bindra and Narang ended the first dayís gold medal drought with a Games record of 1193, overtaking their own mark of 1189 set four years ago in Melbourne, to clinch the menís 10m air rifle pairs event.
Their feat was followed by Rahi Sarnobat and Anisa Sayyed who added the second gold in the womenís 25m pistol pairs event with a championship record of 1156 to boot. In the afternoon Ravinder Singh earned India their first gold medal in wrestling at the Indira Gandhi Sports Complex by outclassing Englandís Christopher Terence Bosson 7-2 in the 60 kg final. Sanjay followed his teammate by winning the 74kg gold beating South Africaís Brian Richard Addinall 2-0 in the final.
The icing on the dayís performance was provided by Anil Kumar who made it a clean gold medal sweep by overwhelming Australiaís Hassene Fkiri 6-0 in the final of the 96kg class. Indian shuttlers beat Barbados 5-0.