Hisss…world
At the Shiwalik Golf Course (SGC), Chandimandir, golfers often sight a lost ball tantalisingly close to the stacked-up coils of huge Indian rock pythons that inhabit the ravines
When a quartet of veteran caddies rushed out of the dense undergrowth flanking the 15th hole at the Panchkula Golf Club, looking pale yet oddly impassioned, we knew it was familiar trouble. A yellowish snake, which refused to budge, had held up search operations for a lost golf ball! 
| | |
| --- | --- |
| Rinku and Ravi | Rameshwar |
During the Wildlife Week, it's time to think…think once again on what we have done for wildlife conservation, where we lack and what needs to be done
If we want to conveniently ignore certain things…ah well the matter ends there! On the other hand, if guided by conscience you decide to take note of things around and act accordingly, the scope of repair and betterment increases.
| | |
| --- | --- |
| | Nikhil Sanger |
At pace with a cause
Whether it's walking the ramp or walking a mile, if it's worth the cause, Kapil Dev is always game for it
What do you expect when you meet one of the best all-rounder in the history of cricket and Wisden Cricketer of the Century (2002)? "No cricket questions please." Now, that's a surprise and Kapil Dev has never failed to throw one at you whether on the field or outside!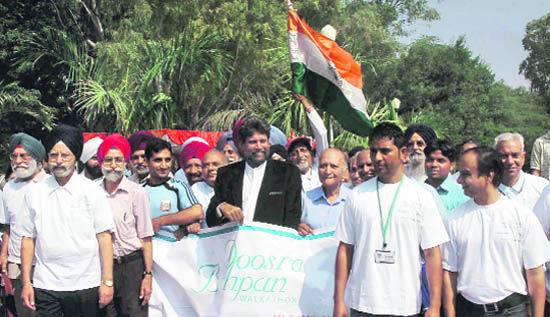 Shining moment
In an event, the All-India at Retail Jeweller India Awards, that awards the who's who of the jewellery world, city-based ad agency, Scribbles, won the Best Print Campaign award of the year. Known to be one of the most coveted and sought-after awards for the Indian retail jewellery industry, the award came to the company for its campaign for city-based jeweller - Talwarsons Jewellers.
Made in India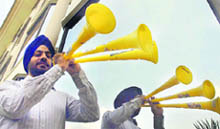 If you cannot get on field and play the match, you can always sit outside and enjoy. Of course, it is not that exhilarating, but it could be better if you have a Vuvuzela — the cheering device that caught the fancy of fans during the FIFA world cup — in hand! And now we have the same device in India as well, which can be made full use of at the Commonwealth Games. No, we are not talking about some cheap Chinese duplicate.
Green fingers
Practice and not just preach, Baba Seechewal spreads the message loud and clear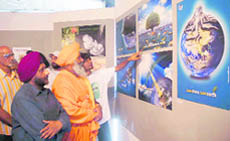 This one's for those to whom green stands for crisp notes. We can't buy another earth with green currency; can we? Unfortunately with the development came the destruction; and environmentally speaking, came the diversity of problems. Think pollution, acid rains, climate change, devastated rain forests, unbalanced wild habitats, extinct species…Did someone rightly say, it sounds depressing but we must not despair.

Sant Balbir Singh Seechewal (in saffron robe) at the Govenment College of Art-10
Sport the drink


Glaxo SmithKline Consumer Health care has launched Lucozade Sport, a scientifically formulated isotonic sports drink endorsed by top level sports bodies and used by athletes worldwide. Lucozade sport has the right balance of electrolytes, glucose and fluids in body and ensures faster supply and absorption of energy to your body during high activity sports like running, jogging, cycling and playing football.

Kangana uncut
Her unconventional looks and frizzy hair landed her atypical roles in Bollywood. Kangana Ranaut now harbours a dream of donning the director's hat and already has a script in mind. "I'm quite happy with how my career is moving, but in terms of the future, soon, I guess I'd like to direct a movie. I have a script in mind. Let's see where it goes," Kangana said.
Kangana Ranaut
Item code
Television actor Shweta Tiwari, who is right now in the Bigg Boss house, completed her first item number with Chirag Paswan.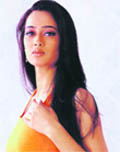 The sizzling number was shot for One & Only, which is the debut vehicle of Chirag, son of politician Ram Vilas Paswan.

"The item song is set in a basti. It has been shot in a village set up in Kamalistan studios in Mumbai. The song is special because it is Chirag's first ever song in the film industry and Shweta Tewari's first item song. Shweta and Chirag's chemistry has translated well on screen," said Anuj Saxena, producer of the film, in a statement. The film also stars Kangna Ranaut, Saagarika Ghatge, Neeru Bajwa, Poonam Dhillon and Vinod Khanna. — IANS

Shweta Tiwari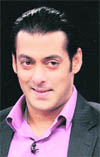 Recipe for disaster
Why is Salman Khan still single? Dad Salim Khan has the answer to the question that has vexed so many of his fans -- 'mama's boy' Salman, he says, can't fix on a girl because he mostly falls for girls who can't pamper him like his mother. "There's a contradiction in Salman's character. He gets attracted to women from his industry only... his co-stars become his love interests. Once a relationship is established, he starts looking for his mom in them. Now that is not possible," Salim said in an interview.
Man vs machine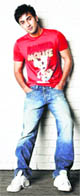 Superstar Rajnikanth rocked the box office down south with Endhiran, but the Hindi version of the mega budget sci-fi outing Robot lost out to Bollywood heartthrob Ranbir Kapoor's mushy antics in Anjaana Anjaani in the northern region, where audiences are opting for the young romance saga. The Ranbir-Priyanka Chopra starrer earned around Rs 260 million in the initial weekend, while Robot, which also stars Aishwarya Rai, raked in close to Rs 70 million. But in the southern region, Endhiran has broken all records by earning a staggering Rs 1 billion in the opening weekend and scalpers were even selling tickets for a whopping Rs 5,000.Another release of the week, family comedy Khichdi - The Movie failed to invite much footfalls and lost to the two biggies. It could collect only Rs 55 million.
Ranbir Kpoor
Wait and watch
Actor John Abhraham's fans will have to wait a little longer to catch

his latest film Jhootha Hi Sahi as the film, originally slated to release on October 15, has been delayed by a week. Oscar-winner A R Rahman, who has given the music in the Abbas Tyrewala directed film, still requires some work on the background score of the movie, which has resulted in the delay. "Abbas took a completely creative decision when he postpone the release date by a week. Abbas feels that what A R Rahman brings to a project is very valuable and therefore, he did not want to hamper A R Rahman's creative process by binding him with time limits,"
John Abhraham
Follow-up
Bollywood actor Emraan Hashmi will be starring in sequels of three of his films next year. The actor will be seen in the second parts of Murder, Jannat and Once Upon A Time In Mumbaai -- all of which were hits at the box office. "The script of the second part of Once Upon A Time In Mumbaai is getting written out. So right now, there is no confirmation when it will start, but it's definitely on," the actor said.
Bollywood actor-couple Abhishek Bachchan and
Aishwariya Rai Bachchan during a special screening of the film Robot in Mumbai on Monday night. PTI photo