M A I N N E W S
Situation in neighbourhood volcanic, says IAF chief
Tribune News Service


Indian Air Force turns 78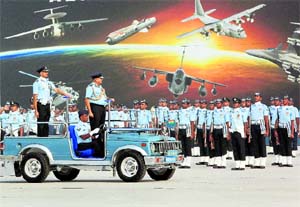 Air Chief Marshal PV Naik inspects a parade of IAF personnel on the 78th anniversary of Indian Air Force at Hindan on Friday. — PTI
New Delhi, October 8
Air Chief Marshal PV Naik today described the security scenario in India's neighbourhood as "volcanic" and said the "control of aerospace" is the key to success in case of future conflicts.
"The current security scenario is like a volcano and may test your skills anytime without warning. These times require swift action and commitment. The air warriors have to be prepared and vigilant," Naik said while addressing the 78th Air Force Day parade at the Hindon airbase, near here.
Later, interacting with the media, Naik said there was no fresh developments that prompted him to describe the situation as "volcanic". "The comparison was because we don't know when it is going to erupt. It may erupt in 100 years or it may erupt tomorrow," said Naik.
The IAF is going to be a very potent aerospace power in the next five to seven years, he said. Stating that the responsibility of keeping the country secure from any external threat was on armed forces' shoulders, Naik said: "This is the very reason for our existence. Being air warriors our operational preparedness has to remain high owing to complexity and intensity of threats. Speed of response, flexibility and precise employment of aerospace assets will be the key to success."
The IAF chief presented 25 Vayu Sena Medals (VM), including nine for gallantry, and 30 Vishisht Seva Medals (VSM) on behalf of the President at an Investiture Ceremony held at the parade.