Fashion-ABLE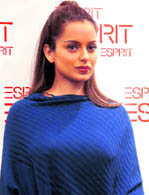 Kangana Ranaut, in the city to announce Esprit New Fall Holiday Range 2010, provides some fashion tips
If styling is all about being comfortable in your skin, why do we need someone to tell us what to wear and what not? How about giving it a thought? Till you rake your brain, wonder what good is the pile of fashion magazines lying in the corner of your room, a Bollywood beauty steps in to share what's in for the fall-winter season. And why do we listen to her, if fashion is all about personalised style? Because we love to! Especially, when you see Miss Goldilocks Kangana Ranaut in straight hair, supporting a short navy blue short dress by Esprit, which by the way looks chic, we can't helping but ask all.
First love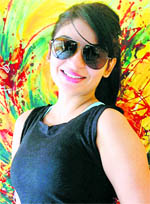 To an actor, genre is immaterial and so is the 'Wood' - Bollywood, Hollywood or Tollywood! What matters at the end of the day is a good role that can fetch a few critical awards and keep the fire burning. For Punjabi actor (she added the glam quotient in Prince though) Neeru Bajwa too, acting is more important than the medium. But it is her first love that makes her come back to Punjabi cinema. "Goes without saying, this is where I began my career, naturally I am close to it," says the actor in city to host Big Punjabi Music Awards on Friday. She is quick to add, "I don't mind working anywhere as long as I am doing a satisfactory job."


Neeru Bajwa. Photo: S Chandan

A different tune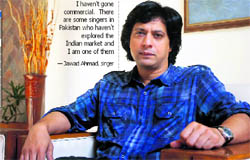 Pakistani singer Jawad Ahmad in the city for Big Punjabi Music Awards
Those in politics may have a different take on Indo-Pak relations, but artistes like Jawad Ahmad, from across the border, see India as a good market. And if you thought only cricket was bridging the gap, Ahmad loves to differ. In the city for a performance at Big Punjabi Music Awards, the singer feels music and films are like magic potions for both the countries.

Photo: S Chandan

Luxury afforded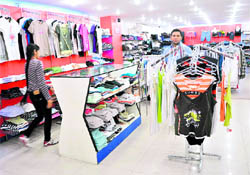 Buy the best of brands at a price not too heavy on the pocket at export surplus showrooms
What's in a brand? Ask the brand aficionados and they'll have a tale to tell. Even for the one's who know nothing of it, it's time to make merry as you can get the best of brands at affordable prices. Courtesy the export surplus showrooms, now you can bag a Tommy, Nautica or even Esprit for mere Rs 1,000 or even less!

Photo: Parvesh Chauhan

What a spectacle!
When American writer and poet Dorothy Parker quipped, Men seldom make passes at girls who wear glasses, she could, obviously, not have known the high-drama of fashionable eyewear! No more a thing of mere utility, 'chic with service' is the buzzword for spectacles these days.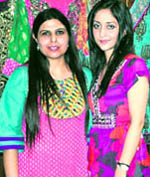 Take your pick
Bright hues, flowing fabric, fitted silhouettes and things for your home, the two-day exhibition put up by Kamal Attariwala at Hotel Aroma, sector 22 has something for everyone. On display are chappals, kurtis, clutch bags, suits, platters and few more goods for your home. While you can pick georgette suits or kurtis in velvet, patch and lace work the kurtis available come worked in pearl, zardosi and gotta pati. And if you are looking for home accessories here you can pick gift items like trays and platters.

Seal without a hitch
Everyone hates puncture. And it usually happens at the worst time possible-when you are on the way for an important meeting, when the clouds open up like there is no tomorrow, or maybe your girlfriend has given you an ultimatum. Scan Solutions India has introduced Slime tyre sealant, which comes as a boon for tubeless tyre owners. Once you install Slime tyre sealant it in your tyres, there would not be a puncture for at least two years, which is usually the life span of these tyres. You can either treat your tyre with this fluid at the onset or use it when you encounter a puncture. Once installed, Slime remains in liquid form; it will not harden or dry out. As the treated tyre rotates, a centrifugal force pushes the sealant to the tread area, creating a layer of protection, which repairs punctures as they occur.
An artist's eye
History bears testimony to the fact that in the best of times or the worst, humanity has always been turning to the 'arts' to find answers to intuitive queries and understand what is beyond comprehension," observes Ishwar Dayal, an artist, academician and an avid artist. "As a child I was too naïve to understand my calling. But what really inspired me was when I saw my father, a language teacher, spending much more time in making portraits and drawings than his official duties at school! I attempted to emulate him, as fun at first, till it became a passion with me. In sheer innocence I believed that I had discovered the blissful mystery of painting as an art," he shares.
Action time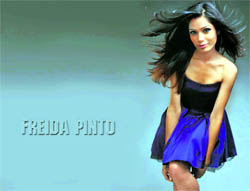 Indian beauty Freida Pinto says that she is tired of playing the exotic love interest in Hollywood films and wants a role in an action flick. The 25-year-old Mumbaikar shot to fame as Latika in Slumdog Millionaire which went on to win eight Oscars and played a similar feminine character in Woody Allen's romance You Will Meet A Tall Dark Stranger. But Pinto is tired of the girly roles now and wants some action. "I keep playing the damsel in distress. But I'd like something with a kick now," she said.

Freida Pinto

Smoke screen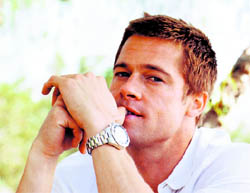 Hollywood superstar Brad Pitt reportedly smokes behind his partner Angelina Jolie's s back and is scared of getting caught. The Inglourious Basterds actor, who raises six kids with Jolie, picked up smoking while he was still married to Jennifer Aniston. "Smoking cigarettes is something Brad has done for many, many years and he smoked when he was married to Jennifer Aniston," a source said.



Brad Pitt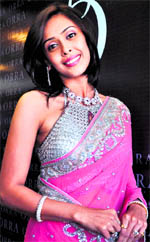 MILLION DOLLAR BABY: Bollywood actor and model Hrishitaa Bhatt wears a 'Million Euro Diamond Bustier', in Ahmedabad on Thursday. PTI photo

Stun(t)ing move
Bollywood actor Ajay Devgn has pulled off many stunts in his career, but this was unique. He went ahead and broke a glass bottle on his director friend Rohit Shetty's head on the sets of Zee TV's Sa Re Ga Ma Pa Singing Superstar. The duo, along with Kareena Kapoor, Kunal Khemu, Shreyas Talpade and Tusshar Kapoor, made a special appearance on the show for the music release of their upcoming film Golmaal 3. Ajay did the stunt in good fun, after music director duo Sajid-Wajid coaxed the usually reticent actor to sing a song for the audience. The actor gave in to their request and sang Mere naina sawan bhadon.
Friendly advice
Not even a week into Colors' Bigg Boss 4, actors Ashmit Patel and Sara Khan's friendship is there for all to see. And now, Ashmit is even trying to convince Sara to kick the butt. "Sara apparently started smoking after Bidaai. She smokes about one or two cigarettes a day, but Ashmit tried discouraging her to do so as it is harmful for her health. They have struck a good friendship on the show," a source told.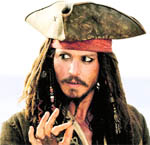 Jack the trouble-shooter
Hollywood star Johnny Depp took 'show and tell' to a new level at a London school when he turned up in full pirate regalia after a fan wrote to him seeking help stage a 'mutiny', according to media reports. Beatrice Delap, 9, wrote to Captain Jack Sparrow, Depp's character in the Pirates of the Caribbean movies, asking for help with an uprising against teachers at Meridian Primary School in Greenwich, south-east London.
Swift action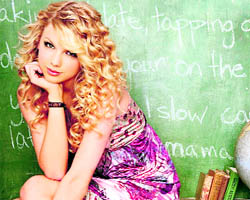 Country singer Taylor Swift is reportedly dating model Bryan Lillis, who starred in her latest music video. Lillis featured in a TV commercial for Swift's forthcoming album Speak Now and sources claim the two clicked instantly. "When Taylor was introduced to Bryan, she acted like a little girl, all shy and nervous, but by the end of the location shoot at an LA (Los Angeles) high school, the two were talking up a storm and flirting like school kids," said a source.


Taylor Swift

Beer hug!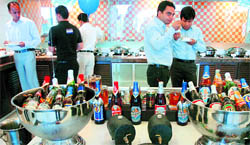 Beer, food, music, dancing and horse racing sums up Oktoberfest - world's largest fair that the Germans take pride in, is here to woo you. Hometel, a Sarovar Hotel, is offering the best of beer and German meals in their own version of Oktoberfest at their restaurant Flavors at Industrial Area, Chandigarh. "We have the best of beers from all around the world, especially Germany, to go with our huge spread of choicest cuisine - German apple cake, chocolate bravian, chicken with altbier sauce, lamb with potato stew and German chocolate rice crispy treats," says Sabyasachi Chatterjee, general manager.
Jewel in the crown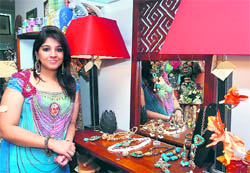 The idea behind designing each piece of jewellery is to render it a look that would complement any outfit. From a semi-formal dress, evening gown to an embellished sari, the jewellery creations are the right pick for any occasion. Says Shweta Gupta, a designer from Bengaluru who has her creations on display at the Willow Café Sector 10, "Women prefer to buy practical jewellery that can go with any dress.

Shweta Gupta

Grills and thrills
We have tastes of India, Arabia, Mediterranean and Europe, all served to suit your choice.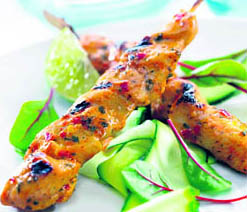 Craving for a royal treat? Well, KC Crossroads-10, Panchkula is the place for you. Starting with their skewer promotion, the hotel has launched its Kebab menu, Arabic and Indian delicacies served with a fusion of Mediterranean sauces. And a lot more in terms of experimentation with Indian concepts and European preparations. "The aim is to provide best flavours to the customers, but with a difference. We have many restaurants serving Kebabs in city, so we have twisted the presentation and preparation to make it taste different," says Abdul Rehman Qureshi, executive chef.