Modern age Don Quixote
Reviewed by Deepa Gopala Krishnan
The Mythologist
By Vamsee Juluri.
Penguin Books. Pages 269. Rs 299.

THE Mythologist is the story about a failed "hero" who habitually escapes into his own world of myths and beliefs instead of facing the harsh reality. Like the author, who was born in Hyderabad and grew up in a film-making milieu, protagonist Parshuram, too, is a Hyderabadi whose Big Grandfather is a veteran star-maker, famous for his mythological movies.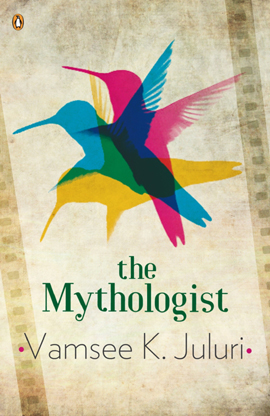 Growing up in such an environment, Parshuram imagines himself as mythological hero Krishna, whom everybody adores and looks up to. However, like a bubble that swells and finally bursts, his make-believe myth, too, is shattered. A couple of pages into The Mythologist and you have figured out the title.
The novel begins with "As a child, I was a god". Such a mighty statement! However, skip another line and the third sentence is "The truth was, I was only almost a god". We see uncertainty creeping in. Subsequently, we are told Big Grandfather had big dreams for Parshuram—to launch him as Krishna in his biggest-ever venture, which could never take off. By luck, he was once made a substitute as a mythological hero for another child artist for a day. And that too for just a back-of-the-head shot. That is his sole claim for being "almost a god".
Absurdism is the primary theme of the novel. The protagonist has to struggle between his wishful thinking and reality. While Parshuram knows that "the reality is the truth", he has "to redeem the reality of what my life was with just one more thought, one more wish, a dying man's wish`85"
First abandoned by his plastic surgeon parents, then by Big Grandfather at school, and finally by AK, a mysterious lady who first appears to be Parshuram's sole benefactress but later turns otherwise, our protagonist learns to find solace in his myths.
The mythological hero becomes his alter ego, where he is the redeemer, the saviour. He is the Don Quixote of the modern age. Unable to see the naked reality lying in front of him, he turns away. In spite of the hyperbolic expressions that he uses to describe himself, we get to see the underlying loneliness, fright and failure.
The novel is a satire on chivalric romance. By revealing the make-belief world of Parshuram, Juluri has two motives. While on one hand, he has introduced the humourous element in the plot; on the other hand, a deep reading reveals the needs of the protagonist. The instances of his school life, in particular, are quite witty. For instance, Prashuram describes how while playing cricket, he would imagine himself to be a warrior slaying his enemies with his mace and aimlessly rotate his bat in the air.
With the help of AK, he is able to go to America. All the way long, AK appears to be a mother-like figure to him, who is worried about his well-being, his marriage and his future, but once he offends her and the whole equation changes. Very soon, he finds himself stranded in the US without money and passport.
Even though Juluri has introduced 9/11 into the plot, yet we cannot see much relevance in the story. Terrified, he hides in his apartment and there he writes his own "great" myth: The myth of Power without Truth. Parshuram writes Power without Truth is like Medusa, who in Greek mythology was a gorgon—a female creature with serpents writhing on her head and piercing eyes that could turn a mortal to stone. The man could fight against Medusa only with the help of love and honesty.
Even though he is not able to complete writing his myth, Parshuram returns India and the novel ends on a happy note, as he finally finds someone for himself or rather somebody finds him!