Voices of the silenced people
Several Bollywood films that premiered in Toronto recently drew unique portraits of Mumbai, besides redefining the boundaries of Hindi cinema, writes Saibal Chatterjee

BHOPAL-born artist Baaraan Ijlal brings to light the oral tradition of fable telling, exemplified by the Arabian Nights tales into narrative paintings in her maiden exposition that was held in New Delhi recently.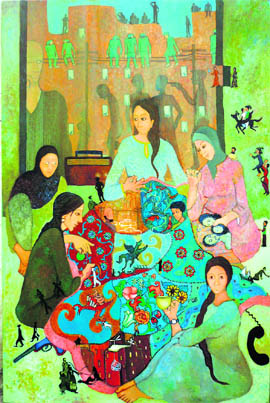 Baaraan Ijlal uses the genius of a storyteller to weave fantastic tales on canvas Photos: Courtesy Seven Arts Gallery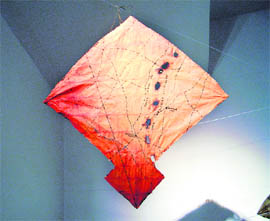 The Shadow Lines IX. Pritika Chowdhry
Her paintings were part of two larger series, Stitched Wings and To Be Continued, which were again part of the series, First Showings, meant for artists with solo exhibitions. The series was put together by Seven Arts Gallery. It also featured, apart from the New Delhi-based Baaraan Ijlal, artworks by New York-based Pritika Chowdhry. Both the artists, through their works, speak of a need for dialogue between nations.
The exhibition titled, Retellings, brought together these two artists, who are based across the globe, but who use a playful and traditional vocabulary to talk about human relationships and the need for dialogue to resolve issues, says curator Deeksha Nath.
Delving into her childhood memories, Ijlal uses the genius of a storyteller to weave fantastic tales on canvas and installations to engage the viewer with intricate compositions.
Born into a family of poets and painters and self-taught, Ijlal's art practice is influenced by things she sees and feels about. A much sought-after illustrator of children's books, she is also capable of switching swiftly to mature themes.
"Memories and the nostalgia inspire me frequently. Conflict of any kind — human or political — provokes me and I find inspiration to paint from the desire to be the voice of the silenced people. I also take my cues from my father's nazms, stories, literature, music etc," she says.
From among her 30 works, Ijlal's acrylic painting Baghdad Cafe in San Francisco transports Perizad, a mythical character from the Arabian Nights fable onto the streets in the US.
Thirtythree-year old Ijlal exhibited a collection of works that were done for over eight years in her Delhi studio.
Her fellow exhibitor Chowdhry paints her stories on Pachisi board game, kites and even almirahs. The almirahs in galvanised iron are similar to those still seen in Indian homes but stand much smaller at around 11 inches high.
"They are a peek into the inner world of people who occupy them. Canvas is a wonderful medium to work on but I'm also working on galvanised iron, a very rough medium. It has worked beautifully so far as it raises curiosity of the people and urges them to open doors," says Chowdhry.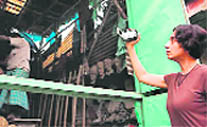 Handmade flax paper, surgical suture, wax, walnut ink.

Her works are all mostly done on kites made of differed medium such as flax paper and wax. Dyed, red abaca paper, inscribed with border-related terminologies like the Line of Control and Cease Fire Line.
"The Crooked Lines" is an amalgam of silk panels printed with geographical borders. "The borders are taken from political situations — India-Pakistan, Palestine-Israel, Korea, Germany, Vietnam and so on.
It makes pointed remarks at the ways in which national borders are 'played' on by political leaders and military personnel," says Nath. — PTI