ORGAN-ic attempt
Punjab movie Ek Noor, to be released on November 12, brings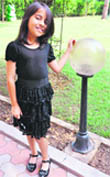 forth the message of organ donation
It goes without saying; at a conference for a movie release the eyes invariably look for a pretty and petite face (the female lead), a handsome hunk (the actor) and rest of the entourage. At the conference of director Mukesh Gautam's and producer Ranjit K Chandra's Ek Noor, we saw many good looking faces but nothing that could qualify as an actor! Mukesh Gautam could read the curious faces, and finally announces, "Every movie definitely has a hero as the face of the flick, whereas in Ek Noor, the subject is the hero, while heroine is the story."
Rhea Sandhu

Changing contours of ART
Art that's the product of a philosophical idea and pragmatic approach is sure to stand the test of time. Suppose an artist comes up with an idea that he gives shape to using modern art forms like an installation or a digital print, the work of art will immediately catch the attention of people.
Prajna Paramita Parasher
In love with India
In an interview published at Oprah.com, Oscar winner Hollywood star Julia Roberts (Pretty Woman) says that she and her children were amazed by India. "Hazel said when she grows up, that's where she's going to live". Julia's son Phinnaeus even shaved his head. "Hazel [also] wanted to shave her head, so I let her shave the back half of her head. They would chant, and they were just interested." Roberts has three children from her current husband cinematographer Daniel Moder (Grand Champion)-five year old twins Hazel and Phinnaeus and three year old Henry.

Real hero
Bollywood heartthrob Hrithik Roshan, who earned the superhero tag with his dare devil stunts in Krissh, said playing a paraplegic in his upcoming movie Guzaarish is not an image change for him. "I am a super character in the film.
Hrithik Roshan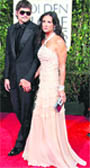 Tweet, my love
Hollywood couple Ashton Kutcher and Demi Moore's love of tweeting is well known but the couple often use the microblogging website to communicate while in the same room. The What Happens In Vegas actor, 32, who is 15 years younger than his wife said that he likes the public display of affection, reported People online.

"A lot of times my wife and I sit across from each other and Tweet. It's a little bizarre," said the actor. "It's the same reason why you send roses to a woman at work. Sometimes people like to be adored in public," he added.




Ashton Kutcher & Demi Moore

Skin show!
From decorating their forearms to getting funky motifs etched on the wrist, back, neck...youngsters from the city have taken to tattoos in a big way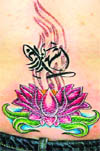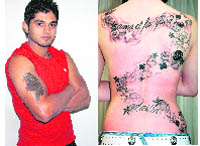 They are all over the town, painting it red, black, grey and all the hues you can possibly think of! Body tattoos have indeed caught the imagination of our youngsters. Right from vividly decorating their forearms to getting funky motifs etched on the wrist, back, neck…the city guys and girls are doing it all. Ranging from a petite rose to a blood-oozing woman, there are a number of styles to choose from. Celtic, traditional or Oriental... the motto is to keep it real.
Foreign IMPRESSIONs
Namaste India
Huang Rur, 22 studies Hindi at Beijing, China. Interested in Bollywood and Indian culture, because it's as old as Chinese culture, Huang is doing her major in Hindi wherein she studies Hindi literature, culture and philosophy. After her studies, Huang wants to volunteer to work for the uplift of the poor in China and India.
Huang Rur
Bond WAGON

Silver lining



The couple at their silver wedding anniversary
A glass half-full..
Even pets can have pessimistic nature


It seems unlikely that a dog could be pessimistic, but a new study suggests that sometimes even they see the glass half empty. A study at the University of Bristol has shown that "a 'glass-half-full' dog is less likely to be anxious when left alone than one with a more 'pessimistic' nature." To verify the same, dogs at two UK animal re-homing centres were trained that when a bowl was placed at one location in a room (the 'positive' position) it would contain food, but when placed at another location (the 'negative' position) it would be empty.
Renee Writes
Move on


I am a 34-year-old woman, sharing a room with my girlfriend. We both work in the same office and over the years have become best friends. The friendship is good, but my friend is extremely jealous of my male friend. She hates him and always makes strange remarks about him. Whenever I tell her I am going out with someone she creates some emergency situation so that my plans are disrupted. Many times I think of running away from this situation but the convenience of sharing the room and other facilities always keeps me there.
How smart?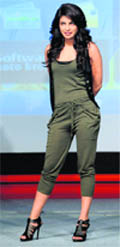 Actor Priyanka Chopra at the launch of a new smartphone in Mumbai.
PTI photo
Shoot at site



L-R: Artistes do a sequence for Gaani, a music album, at Sukhna Lake, Katrina Kaif and Imraan Khan shooting for the movie Mere Brother Ki Dulhan at Sector 17. Photos: Parvesh Chauhan