M A I N N E W S
Manpreet blames govt for blocking his public rally
SAD minister in Gurdaspur refutes rebel leader's claim
Ravi Dhaliwal
Tribune News Service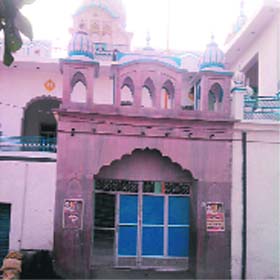 The gurdwara in Kahnuwan wore a deserted look and was allegedly locked from inside. Photo by the writer
Kahnuwan, October 17
The beleaguered former Punjab Finance Minister, Manpreet Badal, is not welcome to assembly segments represented by the SAD-BJP combine and all his movements are being tracked by the state's intelligence agencies. This was the message sent out by the state leadership as Manpreet Badal and scores of his supporters, were thwarted from holding a meeting at the Singh Sabha Gurdwara, located in the heart of the town.
In the morning after the word spread about Manpreet's visit to the local gurdwara, the local police used its CID wing effectively and managed to block his supporters from reaching the venue. The Sumo being used to announce his arrival was confiscated and the organisers were rounded up and later released when Manpreet left the venue for Jalandhar.
Addressing an impromptu press conference just outside the main gate of the gurdwara, which had been locked from inside, Manpreet said: " This is the worst form of state repression unleashed on a former minister by his own party members, a majority of whom did not like his viewpoint on the Rs 70,000 crore debt waiver mooted by the Central government."
He claimed that he was being stopped from holding a meeting, for which he had received an invitation 15 days ago, by Punjab Public Relations minister Sewa Singh Sekhwan and his aides, Kamalpreet Singh Kakki, chairman of Kahnuwan block samiti. The Kahnuwan assembly segment is represented by Sekhwan in the Punjab assembly.
Later, Sewa Singh Sekhwan addressed a hurriedly convened press conference at Gurdaspur, 20 km from Kahnuwan, where he vehemently refuted Manpreet Badal's utterances against him.
He said Manpreet could manage to gather just 20 odd of his supporters which showed people had little respect for him as a leader. Sekhwan added that all these 20 persons were from Jalandhar and not a single person from Kahnuwan, was with Manpreet. He said the debt waiver floated by Manpreet was not the real issue. "The fact is that he does not accept Sukhbir Badal as the party president. This is the crux of the issue," he claimed.
Manpreet, while addressing the press conference, said, "The SAD has ceased to exist as a democratically elected body. Just look how the so called SAD leaders are afraid of me. A couple of days ago some people, owing allegiance to some senior SAD leaders, ransacked my Chandigarh office and today they have stopped me from attending a meeting. Is this not state repression in its worst form? When the Public Relations Minister and his aides got to know about my meeting in the morning, the state machinery, including the local police, went on an overdrive to make the meeting a failure. Today, indeed, is a sad day for Indian democracy."
Manpreet said he was in politics but was not a politician. Taking a dig at Deputy Chief Minister, Sukhbir Badal, he said: "I am surrounded by people, who are intellectually hollow and it is these very people, who are failing to understand that once we avail the debt waiver, Punjab can be a progressive state. However, there are some myopic politicians who can not see beyond their nose. I felt isolated in the party of which once I was an integral part and that was the reason why I resigned." Ranbir Singh, the main organiser of today's meeting, claimed that all banners, boards and hoardings set up by him proclaiming Manpreet's arrival in the town today, were removed later yesterday evening by people close to Sekhwan and Kakki.