Crusade against injustice
Reviewed by Belu Maheshwari
Struggle for Gender Justice: Justice Sunanda Bhandare Memorial Lectures
Ed. Murlidhar C. Bhandare.
Penguin Books. Pages 272. Rs 499.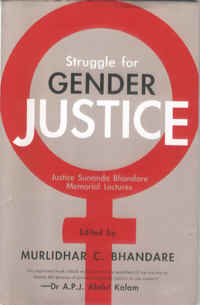 A compilation of 15 memorial lectures delivered in honour of Justice Sunanda Bhandare, this book commemorates his death through these gender-sensitive, well-researched papers. The choice of speakers is eclectic, from political personalities like Sonia Gandhi, to educationists of the stature of Dr APJ Abdul Kalam, His Holiness the Dalai Lama, social activist Aruna Roy, many legal luminaries, Nobel laureate Prof. Amartya Sen and Prof. Madhu Dandavate.
The lectures are about the inequalities, injustice and imbalances faced by women in the 21st century. Most of the papers trace their struggle, fight for justice in their lives.
In the last two decades, quite a lot has been written in various forms on the topic of women's struggle for equality and justice, but it is still elusive. In spite of the Indian Constitution granting women equality, the Parliament passing laws to safeguard their rights, some progressive judgements being delivered by the courts, life still does not follow the course of justice.
Statistics speak more than words, which are quoted in the book. Women perform nearly 66 per cent of all working hours, receive only 10 per cent of the world's income and own less than one per cent of the world's property. The case of Indian women is even worse. Justice M.N. Venkatachaliah recounts the writing in the Brihadaranyaka Upanishad, where Maitreye asks the philosopher Yajanavakya, "How far would wealth go to help women get what they want? Her question in a larger context concerns the relation between incomes and achievements, between economic wealth and the ability to make choices.
Economic indicators are not the whole story as women's political representation in Parliament and Assemblies hardly crosses10 per cent. However, reservation in local self-government has helped women make choices of their needs, as Aruna Roy narrates the Panchayat experiment in Rajasthan. Social indicators are very important for holistic development, says Prof. Amartya Sen. He discusses the wide range of variations between the different "faces of gender inequality". There is survival inequality, unequal facilities, ownership inequality, unequal sharing of household benefits and chores, domestic violence and physical victimisation. Sen touches upon every point and very logically brings out the inequalities.
In our country, as Justice Sunanda Bhandare writes, the goddess of learning is Saraswati, the goddess of power is Parvati, the goddess of wealth is Lakshmi, and even Manu has opined, "where women are honoured, God feels delighted", in that country women face innumerable biases and inequality. We move one step forward and two steps backward. Justice still is a far cry, and even law is not equitable. Some of the judgements are archaic, take the cases of Bhanwari Devi or Maya Tyagi. Even rape cases, domestic violence, dowry cases go unreported or are dragged on for decades. Maintenance laws are not clear. The wealthiest of man can throw a woman out of his house with her children while she keeps fighting for justice throughout her life.
While there is de jure equality, women have still to achieve de facto equality. The book, which highlights the arduous task of fighting for women empowerment, should be read to further the cause of gender justice.