The India presence at the recent Frankfurt Book Fair
was as diverse as the country itself
Fair chance
Shobit Arya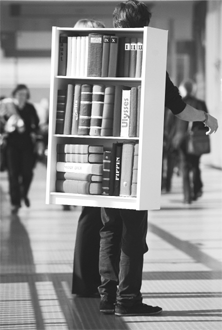 A man walks with a mock shelf on his back at the recent book fair in Frankfurt, central Germany Photo: AFP

The Frankfurt Book Fair will never be the same again. This is no doomsday call. Well, almost not, but any regular to the most important book fair of the world will tell you that the characteristic buzz of the fair is weaning away, and the change, this time, seems irreversible.
Technology is taking over in a big way and 3-D book converters and interactive pen devices are catching the fancy of book publishers. 'Apps' seems to be the magic word and the book, as we know it, is ready to reinvent itself as a multi-dimensional experience. This, coupled with the international slowdown and currency wars, has ensured Frankfurt was leaner, though thankfully, not necessarily meaner.
A little away and a little spaced out in time from the centre of all this, which happens to be the international hall, where a handful of Indian publishers like yours truly dwell for six days annually, is the Indian hall. The ambience there did reflect the tendency of Indian publishers to resist change, though we did have publishers like DC Books that were showcasing Wink, their e-book reader and Karadi Tales, who are planning digital downloads of their audio-books, trying to keep pace with technology.
Under such circumstances, a session on the success of mythological fiction from India did seem awkward, but not to the western world still smitten by the world of snake-charmers and chillums. As the Swiss agent who represents us said, "We, in Europe, want to read books which have the flavour and mystique of India." And I thought we were trying to break the stereotypes and showcase the new India to the world. Well, I guess, it is not just the Indian publishers who resist change."
The German Book Office (GBO), Delhi, did a praiseworthy job in organising events - from matchmaking sessions with publishers of the guest country Argentina and the art book publishers of Germany, to a guided tour of the German children's book publishers, to book launches with authors like Bulbul Sharma and Mita Kapur, it was quite an eclectic mix of business and pleasure.
More in keeping with the concept of 'New India', it was the STM publishers, known so as they represent the fields of Science-Technology-Management, which accounted for the largest representation from India this year.
So, from children's book publishers like Navneet Publishers to specialised publishers on Islamic books like Goodword Books; from the legendary UBS Exports to printers like Gopsons and from education publishers like Vikas Publishing to the Central Reference Library of Kolkata, the Indian representation at the Frankfurt Book Fair seemed to be as diverse as the country itself.
Quite unlike the cult-ish and un-diverse cuisine preference of Indian publishers --- they all flock the Indian restaurants all the time. — IANS