SHORT TAKES
Learning the norms
Randeep Wadehra
Broom Groom
by Kiran Bedi and Pavan Choudary
Wisdom Village. Pages: 168. Rs 195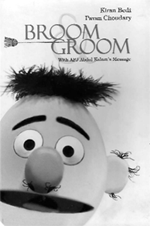 Every society has an unwritten code of conduct governing interaction among its members; this code – seemingly static – changes with time. It is true that earlier various communities, existing in relative isolation, had evolved their own precepts and practices vis-`E0-vis hygiene (broom) and etiquettes (groom). Gradually, communities began to interact on various planes, leading to more complex B&G requirements. In today's globalised milieu it has become all the more essential to observe universally accepted etiquette. What behavioral norms would be apt for interactions with one's friends, guests, elders, subordinates, superiors, ladies, strangers etc? For most of us it could be quite confusing. As the authors point out in the introduction, "Broom & Groom is an expression of both anguish and hope. Anguish over the inadequate civic sense in our society. Hope, because we believe that once we become aware and sensitive, change will follow".
This book, accordingly, tries to take a comprehensive look at our B&G needs. Appropriately, the volume has been divided into two sections. The first section deals with grooming while the second provides food for thought on brooming. We are introduced to etiquette both at individual as well as social levels. Appropriate forms of greetings, conversations, speech etc get as much attention as how to be a good host/guest, behave while standing in queues and while staying in/visiting hotels, restaurants etc. The list is quite elaborate and covers every situation imaginable, from visiting the sick to observing road manners and parking etiquette.
It is well known that values imbibed during the formative years last for life. This book can be extremely useful to school going children.
When a Jilted Woman Hits Back
by Dr. Rajinder Singh
Diamond Books. Pages: 174. Rs100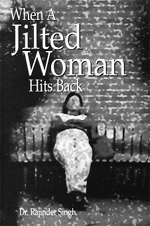 This novel's protagonist is Sheila (later on we are told that her actual name is Sheilwant daughter of Meila alias Meilwant) – a brilliant student of Dr. Gupta who is a visiting professor to various prestigious Indian and foreign universities including the London School of Economics. Now, Gupta has a lamentable tendency to seduce his female students. Instead of causing a scandal in the academia, it merely generates tepid reactions like jealousy among the philandering professor's ex-flames towards his current favorite. Sheila is not a newcomer to the campus but is taken in by Gupta's promise of marriage and gets impregnated. Thereafter, the professor goes off to London, where he blithely beds his landlady and her daughter by turns`85 Sheila pursues him to London and undergoes variegated experiences. The story ends with a tight slap on Gupta's cheek (he had, meanwhile, turned into a godman)...
A pass plot has been unimaginatively developed and written in a stilted language; there are certain passages that remind one of Hindi pulp fiction of the 1960s vintage. It goes without saying that, along with other literary elements, a writer must master the language too. Unfortunately, this novel falls far short of expectations.
Samina – A Living Legend
by Kailash Chander Sharma
Pages: 95. Rs 160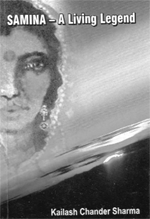 The only positive thing about this novella is that it narrates the story of a woman who struggles against the injustices perpetrated in a patriarchal rural society – a story that could have been engrossing in the hands of an accomplished writer.
Clearly, the author is not familiar with the syntax of English language. Moreover, the story starts off as a first-person narrative, which, after a couple of pages, turns into third person without any reason.
Apart from poor syntax, the plot development leaves much to be desired and characterisation is amateurish.
Being self-published, there have evidently been no editorial inputs.
It's always rewarding to write in the language one is familiar with; apparently, the author's forte is Hindi.