Bowled over by kossa mansho
This lip-smacking Bengali dish has a compelling presence and irresistible charm
WHO doesnít know that Kolkata is the city of joy ó the land of maach and mishti? A place to get happily infected with football fever and spend countless hours heatedly debating local, national or international politics in a tea kiosk adda? But there are not many who are wise to the well-hidden culinary gems that this metro has in its treasure chest.
On a short visit to that great city, we were invited home by a dear friend Sanjay Bharati, original publisher of Alo-andhari, a moving autobiography of Baby Haldar, the runaway publisher in several Indian and foreign languages. He and his charming wife Yamuna treated us to a mouth-watering lip-smacking kossa mansho.
Slow cooked on wood-fired chulha in their Kanchapara home, it brought back memories of other delicious bouts with kossa. Neither a korma, nor a kalia or salan, do pyaaza or dum pukht, it has a compelling presence and unique charm thatís quite irresistible.
What is remarkable is that you can master the recipe easily and prepare it well with very few basic ingredients. Just donít ever think of fast-forwarding the cooking and keep clear of water, even a minuscule sprinkle. We are still trying to sort out the riddle of its name. Sanjay admits that his recipe strays a little from the bhadralok version but we arenít complaining.
Kossa mansho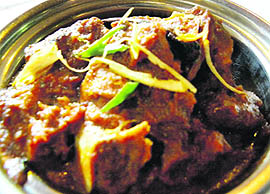 Ingredients
Mutton (shoulder and chops) 1 kg
Mustard oil 200 ml
Garlic (donít remove the peel) 1 pod
Onions (medium-sized) three
Bay leaf one
Brown cardamoms two
Cloves two to four
Cinnamon (two inch piece) one
Red chilli powder 1 tsp
Turmeric powder 1/4 tsp
A large pinch of black rock salt
Salt to taste
Method
Clean, wash and pat dry the meat. Peel and slice the onion fine. Heat oil in a thick-bottomed pan and when it reaches smoking point, put in the bay leaf, along with the rest of the whole spices. As these begin to crackle, reduce heat to medium and then the meat with the chillies, turmeric, rock salt and salt. Add sliced onions and the whole pod of garlic. Cover and cook on low heat till meat is done tender to taste, uncovering and stir occasionally. Enjoy!