Lifestyle and happiness
External factors like religion, social participation, working hours and partnering options have been found to have an impact on the levels of happiness of people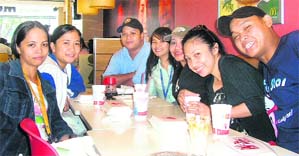 Long-lasting relationships and good health are vital for happiness

Genes and early life experience donít set a limit on the level of your happiness, a new study has claimed, challenging the long-held belief that feelings of satisfaction are predetermined by genetics and upbringing.
Researchers, who looked at data of about 60,000 Germans for up to 25 years for their study, found that feelings of happiness and well-being respond to external factors such as healthy lifestyle, religion and working hours. According to lead researcher Bruce Headey of the Melbourne Institute at the University of Melbourne, the findings suggest genes only account for around 50 per cent of well-being, with external factors accounting for the rest.
Previous studies suggested that happiness is predetermined by genetics and early upbringing, and that we eventually revert back to the same level of happiness regardless of changes in our lives. For the latest study, the researchers analysed data from the German Socio-Economic Panel Survey (SOEP) that interviewed more than 60,000 people, aged 16 years or older. They found that the more people decided to prioritise goals such as good relationships and good health, the happier they were, regardless of major life events.
A large number of the participants reported substantial and apparently permanent changes in satisfaction, or happiness, indicating that set-point theory has significant flaws. The theory suggests that long-term happiness in adults is essentially stable, or has a set-point, relying on genetic factors, including personality traits moulded and expressed early in life.
According to the researchers, the SOEP study turns this notion on its head, suggesting that both micro and macro economic policies can have a major effect on the ongoing levels of individual and collective happiness.
Lifestyle choices, partnering options and religion, as well as working hours and social participation were all found to have a significant impact on the levels of happiness of the study participants. ó PTI