Dress to look slim
You can easily look slimmer if you wear certain types of clothing, says Homai Sagar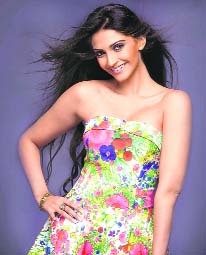 Wear clothes that naturally compliment your appearance

You can appear to be slimmer, while wearing certain styles, colours and types of clothing. In fact, you can easily look 10 to 20 pounds lighter if you know the secrets of looking slimmer. First you have to decide as to what type of dress you want to wear, Indian or western. For, a lot of your efforts depend on your usual couture.
In either case, first pay attention to your foundation garments. Yes, ladies, this means your underwear and bras. Bra straps that are too tight cause rolls or bulges. Panties that bind and donít move with you can do the same, not to mention those unsightly panty lines. Hosiery also can help slim your appearance. Body slimmer undergarments or foundation garments that fit properly can make a huge difference in how you look once you put on your clothes.
Wear slightly loose Indian kurtas not body fitted, and also not clingy material, but slightly stiff material. Wear churidars or narrow salwars, not very loose like Patiala salwar.
The kurta length should be such that your hips are well covered. The top length should be below your tummy and covering the hips; the pants should be narrow, not too flared. In winters doubled breasted jackets hide the heavy bust line. A long coat with narrow trousers gives a slimmer and taller look without going on a diet. Chinese collar (closed neck) makes you look tall, but avoid it if you have broad shoulders.
In case you are wearing an Indian dress like sari, avoid chiffons and go for crepes or fine silks, not bulky silk; wear a good-fitted blouse and not too deep cuts either.
What makes an Indian salwar-kameez a perfect choice for any woman who wants to hide her generous curves is the variation available in the designs of a salwar-kameez. It can be designed to look like a typical Indian dress with a long shirt, a scarf and flowing trousers, or like a Western dress with a short shirt and parallel trousers.
Chudidar looks good on long kurtas. Avoid wearing them on short kurtas. a salwar around your navel area, as it will pull in your stomach. If you have the tie strings on your side, it reduces the look of the paunch.
If you have broad shoulders, then avoid wearing puffed sleeves. If you have fat arms and, therefore, cannot wear sleeveless, then go in for sleeves of about 5 inches length. This will hide the flab on your arms and your hands will look thinner. Tucks might be out of fashion but they give a very good cut to the kameez.
Sleek bangles or a bracelet-style watch make your arms look thinner by creating space around your wrist, which makes you look slim.
The first thing to do is to avoid clothing with horizontal stripes. If you choose these patterns, then even a slim person will tend to look fat. The secret is to opt our for patterns and stripes that run vertically, as these enable or rather give the illusion of giving the body a taller and slimmer silhouette.
Wear your hair up and pulled away from the face instead of letting it down. This always makes you look more youthful and has a slimming effect on the face. Shorter hairstyles such as bobs also make oneís face look slimmer.
Footwear is important because it either elongates or shortens oneís legs. Heels work great for all women, even tall ones. ó MF