Spell of old Manali
Aradhika Sharma is bewitched by the old-world charms of Manali village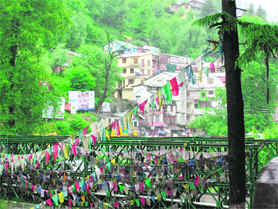 Old Manali is a long, narrow street, winding uphill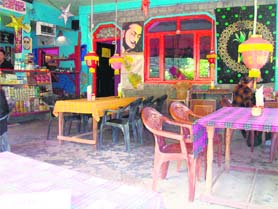 Shesh Besh is an Israeli restaurant, operating in a covered verandah with lots of artwork on the walls. Photos: G.S. Bhattal

This summer it was the beginning of a love affair with magical Manali. I was especially fascinated with what they call 'Old Manali', which is a charming part of the town, so quirky and filled with a variety of fantastic people from all over the world.
Interestingly, I've always resisted going to Manali, intimidated by the long drive (8 to 9 hours) from Chandigarh. But this summer, however, I worked up the courage and went off with a friend, who is a veteran on Manali. We chalked out an itinerary and slotted just about an hour for Old Manali. But charmed by the atmosphere, we ended up spending close to five hours there, and went back for more the next morning.
Old Manali is, in fact, nothing but a long, narrow street, winding uphill but it's the hub of so much life, activity and energy, that it could be the epicentre of the world.
Sadhus, yaks, bazigaars, falafel makers, quaint restaurants, coffee shops, music and the sound of the river running through….these are the spells that this Sorceress called Old Manali casts. The place is multi-national and multi-lingual, as people from all over the world inhabit this little street. Of course the 'good mood' maybe inspired by a puff or two or more of hashish, quite easily available there.
This multi-national street has Israelis, Russians, Arabs, Goans, Keralites, French, Americans and many more. The cosmopolitan culture is reflected in the cuisine. You can get Israeli food in Shesh Besh, a restaurant, which is a covered veranda with lots of homemade artwork on the walls, colourful lamps hanging over tables with checked tablecloths.
Right across is Dylan's Roasted and Toasted, a tiny shack serving a marvellous cup of coffee and some delectable, homemade munchies, cookies and sandwiches. The proprietor of Dylan's is a Goan, who closes shop at the end of the Manali season (September-end) and moves to Goa, where he has an identical set up for the season there.
Giving him competition is the German Bakery nearby. He's from Nepal actually, not from Germany at all. But his breads, pies and cookies are out of this world.
One very interesting feature about the old town is the artwork done there. Randomly! On the walls of restaurants, on signboards, on floors even. It could be retro or comical or classical or even cartoons, depending on what the artist felt like then.
The artwork is visible even on the hand-painted tee shirts for about Rs 800, with gremlins, hashish smokers and Bob Marley as major motifs.
The shops have a variety of stuff, highly overpriced, as it is procured from different parts of the country and Nepal. You can get clothes, woollens, slippers from Kolkata (for Rs 250 though they are available in Kolkata for Rs 75), incense sticks, crystals and what not.
There is even a shop selling chillums. I've never seen such artistic ones. You can choose from regular clay chillums, or long, perpendicular glass ones in different colours, some sheeshas that three people can use together. There was even a chillum in the shape of fat fish.
So many impressions, colours, tenors, so many different people and things to experience, to sample; the Old Manali experience still seems incomplete. It was only an appetizer. The meal is yet to come. But for that, I must go back. So, Sorceress, wait for me.
Quick facts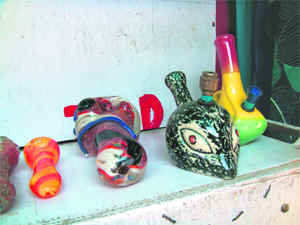 Chillums on display in a shop

Best time to visit: May to June and September to October.
By road: It is the best way. You can either drive or take a bus from either Delhi or Chandigarh.
By air: Bhuntar airport in Kulu is the nearest airport, 50 km away from Manali. There are regular flights from Delhi to Kulu. From there cabs or buses to Manali are available.
Information: The HPTDC Tourist Office`A0 is below Hotel Kunzam. Open in the summer daily 10 am to 5 pm. It provides a trekking booklet having basic maps and possible routes.
The HPTDC Tourist Market Office`A0next-door, reserves HPTDC hotels, books HPTDC buses and arranges skiing courses.
Places/ activities of interest
Hadimba Temple (Dhungri): This four-storey, 26m high temple was built in 1553 and is dedicated to Hadimba, the wife of Bhima. There is the three-day Dhungri festival at the temple in May.
Gadhan Thekchokling Gompa: This Buddhist gompa was built by Tibetans in the 1960s. It has some colorful paintings. Opens 6 am to 6 pm.
Manu temple: Probably, the only temple of Manu in India. Manali is supposed to be the distorted version of "Manu-Alaya," or the "Home of Manu." This temple is located in the Old Manali village.
Solang Nullah: 15km north of Manali, it provides skiing and paragliding facilities for visitors from January to March
Rafting: You can raft on the Beas River. Rafting trips usually begin at Mohal, north of Kullu and go for around 10km. The season is usually May to mid-June and from mid-September to mid-October.
Place to stay: There are hotels to suit all budget types in and close to Old Manali. The lower priced places are mainly in Old Manali, where there are many family-run budget places.
Low-budget guesthouses offer rooms between Rs 150 and Rs 300, having common bathrooms.
Middle budget: Hotel Tourist has rooms from Rs 300 to Rs 550. Hotel Him View and Hotel Riverbank offer rooms from Rs 400 to Rs 1000. Hotel Zarim provides rooms for Rs 700 to Rs 1200.
Eating places: German Bakery for patisserie; Shiva Cafe for Indian, Italian and Israeli food; Beas View Guest House for bakery items and breakfasts; Moondance Garden for Indian and Continental food and sizzlers and Little Tibetan Caf`E9 for Tibetan food.