Theatre is not only a form of entertainment, but it also cures, says Reeti Srivastava
The healing act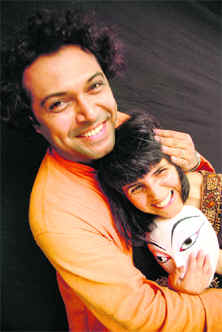 Syed Sallauddin Pasha

Expressing oneself through drama has been deemed as one of the best therapies to facilitate personal growth and health. Keeping this in mind, many individuals and organisations are increasingly using it as a popular method to teach people with special needs.
As film actor and renowned theatre personality, M. K Raina, who works with traumatised children of Kashmir, puts it, "These children donít know what a normal childhood is. We use theatre as a therapy for them to build their personality and confidence."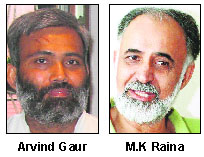 For noted theatre personality, Arvind Gaur, who helps visually impaired children with this art form; it instils a sense of self-belief in them.
"Earlier, they didnít know how to use different gestures. Now, they are able to use their hands, neck and position themselves by use of different gestures. Theatre helps them become mature and they are able to give very good expressions," he adds.
This popular art form also helps in changing the negative mindset of people, intuitively and instinctively, believes National Award winner artist, Guru Syed Sallauddin Pasha, also called the "Father of Indian Therapeutic Theatre for persons with disabilities."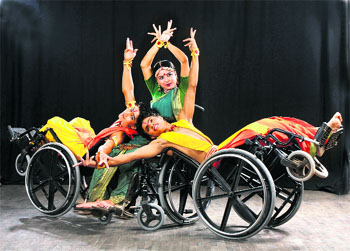 Physically challenged artistes perform a dance drama conceived by Guru Syed Sallauddin Pasha

"These people are in no way less than any other artiste. Theatre and dance help them nurture their abilities. They are recognised. They become stars and dignified artistes of the country. They can take care of themselves and become complete theatre artistes. They know all about costume designing backstage arrangement and lighting," he further remarks.
"All they want is opportunity, not mercy. Unfortunately, our country is not a disabled-friendly country," he rues.
One of his students Ashiq Ali, who works as technical director with his team adds, "Earlier, I was dependent on my family members, now they are financially dependent on me. All my inhibitions are gone now. I have become more confident. It has certainly made a lot of difference in my life."
From being just a pure form of entertainment and fun, theatre today has undergone a tremendous change and has expanded its horizon as a therapy provider that enriches and empowers. ó PTI