Tagore in letter and in spirit
A retrospective of Sharmila Tagore's films is being held in the UK, writes Shoma A. Chatterji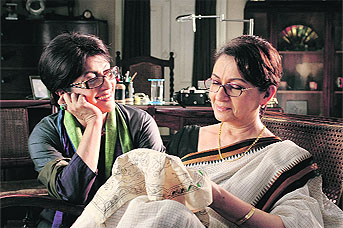 Sharmila Tagore with Aparna Sen in Antaheen

Sharmila Tagore wears her royal heritage lightly. By birth, she is an aristocrat. Her lineage is traced back to Rabindranath Tagore. With a marriage of three decades and three successful children, Sharmila has come a long way from the girl who posed for the cover of a film glossy in a two-piece bikini many years ago.
After a long sabbatical, Sharmila is back to doing wonderful roles in films like Viruddh, Shubho Muhurat and Abar Aranye.`A0She won the National Award twice and also two Lifetime Achievement Awards. Currently, she is chairperson of the Central Board of Film Certification.
"The Tagores were a strange blend of tradition and modernity. We were trained to recognise our rich heritage. Mother ruled supreme in the inner quarters of the Tagore home. Her life revolved around her children. She decided everything, including how we should take care of our skin with grandmother's recipes drawn from the kitchen. There was no room for manufactured beauty care products. We were never encouraged to wear jewellery. We learnt that looking after the inner beauty is much more important than outward appearances," she reminisces, firmly rooted to her Bengali tradition though she married into a different tradition in a different world.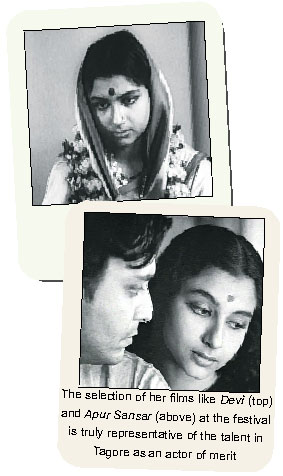 Sharmila Tagore will be honoured with a retrospective of her films in the UK from October 31 to November 19, where she will participate in discussion sessions with the curator after the screenings. The films chosen for screening at this retrospective by filmmaker Sangeeta Datta, who has curated the festival and Monika Kapil Mohta, Cultural Secretary at the Indian High Commission in London, are Apur Sansar, Devi, Amar Prem, Aradhana, Aranyer Din Ratri and Mausam. The screenings will be held in Cardiff, Birmingham, Leicester and School of Oriental and African Studies, UK. Sharmila Tagore's glamour image and the bikini-clad cover on a film glossy many years ago dominated her image and projected her more as a sparkling star than as a dramatic actress.`A0Why was she labelled a sizzling hot number though she was working in pop melodrama and significant author-backed films at the same time?
Her response is, "I was different from other actresses. My behaviour was misinterpreted. I felt I was making mistakes all the time. Everybody would be wearing a sari and I'd turn up in jeans. I was accused of being snooty and arrogant, which I was not. I didn't know that one was expected to lead a certain lifestyle. It changed when I stepped into another phase of my career with Aradhana. I am currently in the third and final phase of my career. I am enjoying myself," she says.
This is an irony considering that she made her debut at the age of 14 in a film directed by the best filmmaker India has ever produced. The film was Apur Sansar and the director was Satyajit Ray. Devi followed with a spate of Bengali films within and without the Ray house. Around this time, Shakti Samanta, a hotshot Bollywood filmmaker who was scouting for a new face to fit into the image of his new film Kashmir Ki Kali, picked on this lovely young actress for the title role. The film's box office success catapulted this new face into overnight stardom. The Hindi cinema met a new star — Sharmila Tagore.
"My first two films with Ray were shot during my holidays. It was a blend of chance and pressure, with a generous dose of curiosity. I was only 14 years old. He gave specific instructions. I had never faced a movie camera before. I did exactly as told. Somewhere along the way, there was a blurring of lines between Aparna, the character I was playing, and Sharmila Tagore. Just as Aparna crossed the threshold of her husband's house, I stepped in front of the camera for the first time in my life. It was like entering a completely new world. It was a turning point. But I was too young to realise it at the time," said Sharmila, during the celebration of 50 years of Ray's Pather Panchali in Kolkata.
Her newest film, the still-to-be-released Life Goes On, is a part of this retrospective in UK. Mainly in English, this film directed by Sangeeta Datta placed her as the central character and the film revolves around her. She plays the matriarch in an affluent Bengali family that has settled down in London for years. She plays Manju Banerjee, who is omnipresent throughout the film though she dies within the first few minutes of the film's opening. She is present within the memories of her grieving husband, who is made to realise her true worth only after her passing away. She is present in the memories of her three daughters Lolita, Tulika and Dia. She is present in the memories of Alok Mathur, her husband's close friend who is clearly in love with her. And she is present all along in spirit, as the catalyst, who places relationships in order and even in her absence, somehow manages to restore peace and harmony in her family's lost world.
The selection of films is truly representative of the talent in Tagore as an actress of merit than as one of the most glamorous stars of the Hindi screen. Apur Sansar, Devi and Aranyer Din Ratri were directed by Ray. Amar Prem and Aradhana came from the directorial talents of Shakti Samanta while Mausam was Gulzar's brainchild that fetched Tagore her first National Award for her role of the prostitute in the film.
Always a director's actress, Tagore shone in Apur Sansar as the child-bride Aparna, who falls in love with the stranger who stepped in as bridegroom at the last minute only to die tragically in childbirth. At the other end of the spectrum is Mausam. It stands out as a milestone among Indian films dealing with prostitution. Mausam is not only about prostitutes and prostitution. It is about love and remembrance, about poverty and exploitation, about affection and hope.