Bally Sagoo , in the city, shares notes from the world of music as well as his personal life
For once, Bally Sagoo's unplugged. So now we come to know him as more than a celebrity DJ, composer, singer; as someone who has had several racist experiences, who was once asked at a club in India not to play Indian music and was approached by the likes of Malkit Singh, Nusrat Fateh Ali Khan and Amitabh Bachchan for collaboration! Delving further, we get to know more, beyond music, "My wife Sita runs a beauty salon in UK and I have a five-year-old daughter Aisha. I will ensure she knows what she needs to know about Punjabi culture," Bally shares some bits from his guarded personal life. This festive season, check out the latest that can be added to the men's wardrobe
Despite the spotlight on garments for women, dressing up men has always meant good business. And when we talk of clothes for men, let's go beyond business and casual wear as the festive season is here, and our men sure deserve something special.

Science of mixing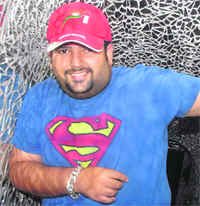 When talking about the deejay scene in the country sans the style they sport, which of course has gone weird for good, the scenario has changed in leaps and bounds. Dancing to popular Bollywood numbers, sometimes tweaked and shaken up from their identity to understanding whether to dance on an electronic number or just chill on it, indeed, the deejay music scene has changed. And DJ Chico from Dubai performing at Himani's Vertigo Lounge Sector-35 is an interesting case of a 'deejay who has been there done that.' With almost 20 years of scratching and plucking chords, Chico would want 'us' to accept deejays as entertainers who specialise in music.
DJ Chico has entertained mega international artistes like Eddy Grant, Bryan Adams, Enrique Iglesias and Scorpians at their post show parties. Photo: Vinay Malik

Treat for the eye
Even as you enter the main hall of the Government Museum and Art Gallery-10 to take a look at the paintings by Ram Pratap Verma, comes a realisation regarding the most significant attribute of art — art is for visual pleasure.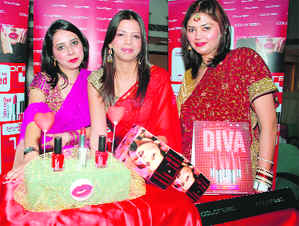 It's all about red
Colorbar, a cosmetics brand with international formulations adds glamour to the new wave of women's beauty this Karva Chauth . Women get dressed in lovely shades of 'red' and celebrate this occasion with much reverence. Colorbar makes this festival of every married woman special by paying homage to red, the eternal colour of love, romance and passion. Three lovely ladies from across age groups were given a fabulous chance of a Colorbar makeover and to learn firsthand from the experts on how to use the right shade of red for their Karva Chauth makeup.
Pride without prejudice

Vijay Singal and Atul Bhardwaj, through the medium of poems and pictures, try to capture the spirit of Punjab in their latest coffee table endeavour — Sparkling Punjab
It's beyond just a piece of land, boundary of a state, set of customs, couple of beliefs and way of life, which is why Punjab is a state while Punjabiat a sentiment. And Vijay Singal and Atul Bhardwaj try to capture it all through the medium of poems and pictures in their latest coffee table endeavour — Sparkling Punjab.
Picks & piques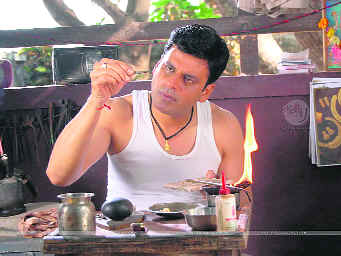 Fool's gold
Film: Dus Tola
Cast: Manoj Bajpayee,
Director: Ajoy
A remake of the Malayalam hit Ponmotta Yidunna Tharavu is set in a hamlet and has characters that bear a close resemblance to real life. The plot line is interesting enough and there are moments held together by some decent performances, but the narrative spiel is lacklustre. It's a message film, that goes the heavy-duty way to achieve it's objective.
King Khan charms Germans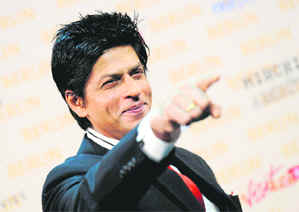 Bollywood superstar Shah Rukh Khan reveals he dreams of dating as many girls as possible while shooting here for Don 2 . Priyanka Chopra says she would love to walk around the streets of Berlin she finds so full of amazing energy. Film director and actor Farhan Akhtar said he is crazy about the architecture of the city.
Bollywood actor Shah Rukh Khan poses during a photo call in Berlin, Germany, on Friday. He is working on his new action movie Don-2 in Berlin, where some of the scenes are shot. Photo: PTI

Face the Piranha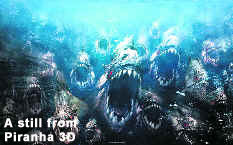 If the audiences missed objects popping out of the screen in James Cameron's Oscar-winning 3D flick Avatar , they should watch Alexandre Aja's horror movie Piranha 3D . The French director says it throws killer fish right 'in your face'! "The 3D technology widened the tapestry of horror, allowing me not only to amplify the carnage I wanted to bring to the screen but to place my audience face-to-face with the film's eponymous threat," Aja told.
Flirty at 30
Reality star Kim Kardashian is reportedly dating rapper Kanye West after the pair were seen enjoying a romantic night together. The Keeping Up With The Kardashians star, who split from NFL player Miles Austin last month, was spotted with West in a Chicago restaurant earlier this week and onlookers claim the pair were all over each other. "Kanye had his arm around her all evening! He was rubbing her knee all night - they definitely looked like a couple," said the source.
Law and order
Hollywood actor Benjamin Bratt is reportedly taking legal action against the bosses behind his latest movie La Mission over allegations that they failed to pay him for his role in the film. The former Law & Order star appears in the movie written and directed by his brother Peter as a father who struggles to come to terms with his son's homosexuality.
John goes Gaga
Pop stars Lady Gaga and Sir Elton John will collaborate on a new track due to appear in an upcoming Disney movie. The song, called Hello, Hello will be featured in the animated film Gnomeo & Juliet, which is being produced by John's partner David Furnish.
Still together
Pop singer Enrique Iglesias has denied rumours that he has split with his longtime girlfriend, former tennis star Anna Kournikova. The Addicted hitmaker has been dating Kournikova since 2002 but despite their eight-year relationship, the couple has consistently denied having any plans to marry.
Parker for a cause
Sex and the City star Sarah Jessica Parker has joined hands with up and coming actress Gabourey Sidibe to raise awareness about sex trafficking. The Hollywood A-listers lent their voices to public service announcements drawing attention to a new hotline for trafficking victims.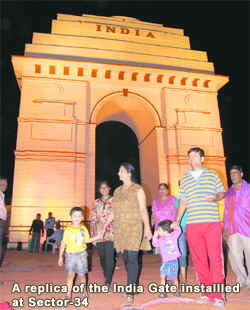 Gala affair
A replica of India Gate that looks mesmerising at night is the mainstay of the Diwali Mela at the Sector 34 ground. Rides, snacks and stuff, this exhibition has a range to offer. Bright lampshades, fancy candle sets, brass diyas and colourful lights — there is ample at this place. And the range of stalls has readymade clothes, woollens, jute chappals, bags, induction cooking range, microwave utensils, geysers, water purifiers and chimes. There are few handloom stalls too where in one can pick up cotton silk, chanderi and Muga silk suits as well as duppattas. Terracotta figurines and ceramic crockery in vibrant colours can make for great gift options. Wooden furniture, beanbags, carpets and decorations, this place offers a lot of home stuff.
Welcome!
A freshers' party Razzmatazz was held at the Continental Group of Colleges to welcome the new batch of students. Marked with colors, songs and dances over 2000 students, staff and faculty members welcomed budding youngsters at glittering party. Col BS Sandhu, president, CIIS Educational society presided over function as chief guest while Devinder Sandhu, general secretary was guest of honor.
TAROT TALK
ARIES: The Temperance inspires you to climb new heights and actualise creative ideas. A small sum spent now will allow you to make big profits later. Recent professional setbacks can easily be turned into triumph. Don't yield to temptation; be responsible. You will not get away with wrongdoings, so, don't even try. Tip of the week: Don't forsake a new learning opportunity. Lucky colour: Peach.