Anniversary of Kabaili Attack
For honour's sake, they killed their women
Ashutosh Sharma
Tribune News Service
Jammu, October 25
It is said that the honour of a woman is bigger than her life. And to preserve that 'honour', a horrifying slaying of nearly 45 women by their own relatives is still afresh in the minds of a few survivors, who fled Pakistan after the tribal attack on Jammu and Kashmir.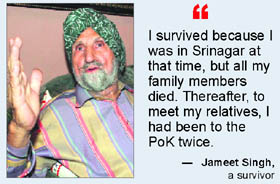 Harnam Kaur, 80, remembers the hair-raising details of the incident that took place this day 63 years ago, when her father, Daanmukh Singh, led a group of community men and killed their own mothers, daughters, sisters and wives so that the tribals could not violate their honour.
"We had been running since the intervening night of October 21 when the tribal attack (Kabaili attack) took place. I was 17-year-old then. I remember we were trapped in a forest with the tribals all set to capture us," recalls Harnam, who refused to be photographed.
"Women were lined up and shot at by a group led by my father, the only person having a rifle. Many women, including my mother, died on the spot," she said.
Jameet Singh, 75, a resident of Nanak Nagar, nodded in affirmation. "Yes, this happened," he said.
Shuchwant Singh, another senior resident of the city, who was part of another group hidden nearby, endorsed the claims saying "Yes, the killing of our own women happened. I remember it."
Miraculously, both of his teenage daughters, Kulwant Kaur and Harnam Kaur, in spite of being shot at, escaped death as they got buried under the pile of corpses. However, minutes later all men in the cavalcade were butchered by the Kabailis and both girls were captured.
"We used to live in Kotli before the attack. When my father and others fired at us. My sister and I were critically injured and we fell unconscious. I suffered a gunshot in the head while Kulwant was injured in the neck, besides she suffered sword cuts all over the body," she said.
"Next day when we regained our senses, we were in the captivity of Kabailis. We were taken to a refugee camp in Muzaffarabad. Thereafter, we kept shuttling from one camp to another in Pakistan. One year thereon, we reached Jammu and our uncle discovered us," she added.
However, every woman was not as lucky as they were. Many of them were forcibly abducted and married to people from other community. They were forced to change their religion and names and were now living in the PoK.
However, as they say blood is thicker than water, despite being separated by borders and religion, they share the same bond with their relatives settled in various parts of India.
Harbans Kaur, now Qasim Jaan, lost all her family members during the upheaval. Her cousin, Jameet Singh, who lives in Nanak Nagar, said, "I survived because I was in Srinagar at that time, but all my family members died. Thereafter, to meet my relatives, I had been to the PoK twice." He added that his love for the birthplace did not subside over the years.
Balwant Kaur, now Jameela, is another cousin of Jameet Singh, who has been living in the PoK. "They keep on writing letters, besides making telephone calls," said Jameet's wife Harnam Kaur, who accompanied Jameet on his visits.