M A I N N E W S
India and Japan woo each other
Hold hands for a free trade agreement
Ruchika M. Khanna
In Tokyo
Tribune news service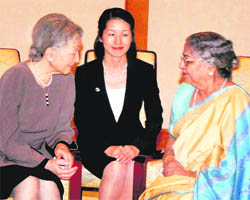 Prime Minister Manmohan Singh's wife Gursharan Kaur with Empress Michiko at the Imperial Palace in Tokyo. — PTI
The strong growth fundamentals of the Indian economy, continuous pursuance of reforms in the financial sector and the ability to offer goods and services at competitive rates makes India the most preferred investment destination. While India looks forward to investment in the infrastructure sector from Japan, Indian companies can offer their expertise in the services sector, knowledge economy and help Japan get cheaper generic medicines.
As Prime Minister Manmohan Singh wooed business leaders of Japan during a special luncheon organised in his honour by the Nippon Keidanren, Japan Chamber of Commerce and Industry and Japan-India Business Cooperation Committee, Japanese business leaders were suitably impressed. With India now envisaging financial outlays of over $ 1 trillion on infrastructure projects between 2012 and 2017, India is looking at a much larger role by Japanese companies in the development of economic infrastructure in India.
"India's buoyant economy, young population and a large market combine well with Japan's technological prowess, manufacturing skills and financial resources. I strongly believe that we must synergise our complementary strengths to impart momentum to Asian as well as global economic growth and prosperity," said the Prime Minister.
Supported by industry titans from India — Mukesh Ambani, Sunil Bharti Mittal, Malvinder Singh and Deepak Parikh among others — the Prime Minister was hardselling India as the investment destination for an ageing Japan, which is now looking at newer markets for investment to fuel its own economy.
The Prime Minister pointed out that there had been a steady expansion of trade and investment relations between the two countries, with bilateral trade making a rebound this year and expected to exceed to $ 20 billion by 2012. "The FDI by Japan in India has grown substantially in the last three years and much of this has been driven by mergers and acquisitions. We welcome greater Japanese investment in creating new capacity in India's manufacturing sector and in green field infrastructure projects," he added.
Announcing the conclusion of the Comprehensive Economic Partnership Agreement (CEPA) negotiations, Manmohan Singh said that this should be a legally binding document. "We are working on it at the government level and if need be at the level of Parliament.
This will create new opportunities for India's pharmaceutical industry in the Japanese market, helping Japan to meet its demand for high quality and inexpensive generic medicines," he said.
This agreement and memorandum on simplification of VISA procedures, which was signed today, will also see the movement of IT and tourism professionals and nurses and care givers to the Japanese market.
No love in Tokyo on N-deal, as yet
Tokyo, October 25
India and Japan today decided to speed up negotiations on a civil nuclear deal. Prime Minister Manmohan Singh and his Japanese counterpart Naoto Kan held wide-ranging discussions on ways to push the strategic cooperation to a higher level with both agreeing that it was beneficial for the two countries.
In a statement issued to media after the talks, Kan said: "We agreed to speed up negotiations for civil nuclear energy cooperation, while seeking India's understanding of our country's sentiment" as a nation which faced nuclear bomb attack. Singh, who earlier in the day said that he will not "force" Japan on the nuclear agreement because of its sensitivity, said, "Civil nuclear energy can be another mutually beneficial area of our cooperation."
The Indian Prime Minister invited Japanese firms to participate in expansion of India's nuclear industry."We would hope that Japan will be India's partner in expansion of its civil nuclear industry for peaceful purposes. But I do recognise the sensitivity of the subject in Japan and will not therefore force the issue," he told a business luncheon meeting here. — PTI