Sharad guns for Rahul 'babua', dynasty rule
POLL BLITZKRIEG: JD-U chief hits out at Gandhi scion, says the latter
should be thrown into the Ganga
Sanjay Singh
Tribune news service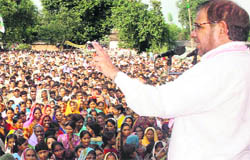 JD(U) chief Sharad Yadav addresses a rally at Bakunthpur on Sunday. — PTI
Patna, October 25
The election campaign in Bihar by top leaders of mainstream political parties turned murky today when JD(U) chief Sharad Yadav launched a personal attack on Congress general secretary Rahul Gandhi at one of his election meetings.
Yadav, who also happens to be the convener of the National Democratic Alliance (NDA), not only called the scion of Nehru-Gandhi family a "naya babua" (infant) but also went on to say that he should be thrown into the Ganga river.
Incidentally, Rahul Gandhi also addressed three election meetings in North Bihar today in the third leg of his election campaign. As usual, he targeted the Nitish Kumar government and said that the funds provided by the Centre were not being utilised by the state government for the benefit of the poor people.
Addressing a public meeting at Fatuha on the outskirts of the state capital, Sharad questioned the political wisdom of Rahul and said that the latter knew nothing about Bihar. "Whenever Rahul has to address an election meeting here, he is given a written speech and he just reads it. What is so great about reading a written text?" He quipped. Sharad Yadav, in an aggressive mood, also imitated Rahul Gandhi's style of folding his sleeves while addressing the people and said: "What does he want to convey?"
Charging the Nehru-Gandhi family with introducing dynasty rule in the country, he named Rahul's mother, father, grandmother (Indira Gandhi), great grandfather (Jawaharlal Nehru) and even great great grandfather Motilal Nehru, saying that this family had ruled the country for 50 years.
Without naming the DMK patriarch and Tamil Nadu Chief Minister, Yadav also charged him with promoting dynasty rule and said the man with dark glasses from Tamil Nadu was also doing the same and there were many others. "How many people can I fight with on the issue?" Sharad asked.
Sharad's personal attack against Rahul created a stir in the Congress with many leaders of the party condemning his utterances and seeking an immediate apology from him.
Bihar Pradesh Congress Committee spokesman Prem Chandra Mishra said the Election Commission should take immediate cognisance of the matter which was being flashed by many electronic channels and take appropriate action against Sharad.
Later, Shard tried to refute what he had spouted against Rahul Gandhi and his family by saying that he had actually talked about the Congress (with their election symbol hand), RJD (with lantern) and LJP (with hut) and said that all of them should be tied together with a rope and dumped into the Ganga.
Sharad feeling threatened: Cong
New Delhi: The Congress today nonchalantly dismissed Sharad Yadav for his personal attack on Rahul Gandhi, saying that the JD-U leader was panicky as the young Congress leader was attracting huge crowds at his rallies in Bihar.
"It is but natural that the JD-U president has got panicky as Rahul Gandhi is drawing huge crowds during campaigning in Bihar. He has lost his political balance completely," party spokesperson Shakeel Ahmed said.