Fasten up your day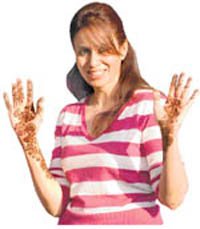 It's Karva Chauth again and Jasmine Singh suggests how the ladies can keep their minds off food and the moon
It's human nature — stop yourself from doing something and the mind ensures that it takes you to the same point again and again! All right, Dr Brian Weiss, UG Krishnamurti and even Richard Bach second this thought. As they talk about the wishful thinking of the mind, they drop in a little message on how to counter it as well. Now, what makes us write all this? Try connecting it to the ladies festival Karva Chauth! We bet, you've got the point and if you haven't because empty stomach doesn't want fluff (it needs delicacies) we just gather points on how to deal with the mind!
On air!
Celebrating the auspicious occasion of Karva Chauth, India's largest FM station network 92.7 BIG FM announces special prizes for women of the city. Supporting its true style of Suno Sunayo, Life Banayo, BIG FM has started with an on-air contest called Karvachauth Glittering Love Contest. Karva Chauth is a festival that provides an opportunity for all married women to get close to their families, especially husband and in-laws.
The ten-day annual edition of National Crafts Mela at Kalagram promises the best of Northeast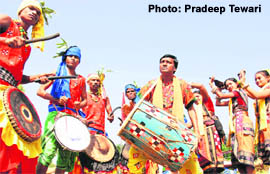 Wild Wild EAST
The biggest cultural bonanza is back with a feast from the Northeast. The annual edition of National Crafts Mela at Kalagram brings the folk and contemporary art and crafts from the heart of the seven sisters. With over 37 stalls on display, the mela gives a full preview of the life from the Northeast, from routine to exotic. The venue has been converted into a mini northeast.
Ebony, ivory and a few more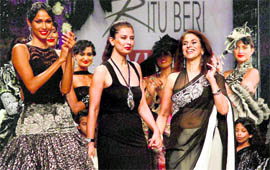 The second day of the Wills India Fashion Week in New Delhi was marked by understated collections with restrained colour palettes. But eclectic designs made up for the missing Bollywood celebs as fashion took front seat this time. From Lady Gaga-esque structures to traditional angarakhas, there was a variety of silhouettes on display in the Spring-Summer 2011 collections, though there was no burst of colour on the ramp

Models walk the ramp showcasing creations by Ritu Beri (second from L) at WIFW
The TOY Hotel-34 adds another chapter to the hospitality industry in the city
Toying with comfort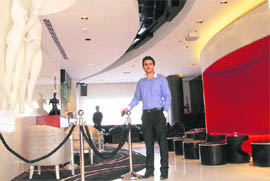 The black and white contrast is what distracts you or attracts you in the first place, at the first glimpse. Add to it Toy for a forename and fashion hotel for a genre…and the city is set to greet yet another hospitality venture into its fold — TOY Hotel at Sector 34. "We wanted the name to be different, energetic and something that brings a smile to everyone's face. Moreover, these days we have so many concepts like the boutique hotel and this being a fashion hotel, we chose the word TOY," Akshay Verma, managing director, remarks on the couple of obvious first questions.

Makeover magic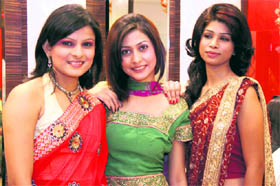 Villa Hair Sense, a newly-opened unisex salon at Sector 9, organises a show to give haircare tips and style for different occasions, including bridal makeover.
Luck by chance
Gurbax Kaur and Kulwant Singh from Hoshiarpur are the winners of the Lux Super Star offer, which gave an opportunity to consumers to meet Bollywood's superstar couple Abhishek Bachchan and Aishwarya Rai in London.
Badmen and robin
Our young, impressionable maid burst in to announce the missing fellow had been found. Dead. It lay trampled upon like discarded marigolds from a marriage at the street's garbage bin. The dead fellow was a Magpie robin, the peerless songster and bird-call imitator of Chandigarh's gardens. Though she had no clue as to its name, our maid had often seen Saheb and the children eavesdrop on the bird's music when perched in the recesses of the lemon tree next to her quarters.
Bits about Bytes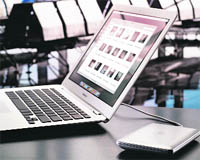 Back it up
One of the boring things you are always told is to make a backup of your work. You read it in computer magazines, you hear techies tell you about the horror stories of people who asked for their help in recovering lost data, and yet you never do anything about it! I learnt computers and was immediately told about the need to back up, and not just once. It is probably because of this training in the past that even before I start a document, I give it a file name and save it.
Spade work
No bed of roses this!
Gardener's moods keep changing. At times they want to have many colours of the annuals and after a few years some want very less annuals and something other than the routine. Some wants landscaping requiring no maintenance. Well, if you want to have a garden, you will have to maintain it or else it will turn out to be a mess. Yes, for minimum maintenance we can suggest some features.