Small towns, big potential
If you have been cherishing the dream of having a second home in the midst of hills and are willing to think beyond the Shimla, Solan area, then the Mandi-Sundar Nagar belt on NH-21 is worth a dekko. However, you may have to make a thorough hunt for an ideal spot and deal (that includes considering the non-Himachali clause).


Realty prices in scenic towns of Mandi (top) and Sundar Nagar (right) are in the affordable range

Divali Décor-I
Glow of the conventional
It is that time of the year again! The warmth of festivities in the air seems to be challenging the nip that is slowly sneaking in. It is time to add the touch of tradition to light up your décor this Divali. Conventional lights are the mood of this year, writes Saurabh Malik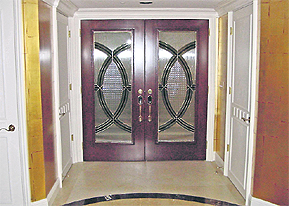 GROUND REALTY
Work wonders with WOOD
Woodwork is the most time consuming activity during the construction of the house. All the activities, including polishing of floors, are finished but some woodwork always remains pending. House builder should, therefore, plan the woodwork the day he begins excavation work at site. Here are a few useful guidelines for taking woodwork in hand:
Factory-manufactured doors carry high dimensional precision and finest finishes

REAL TREND
Affordable and loaded with facilities
The revival of the realty market has led to cut-throat competition in the residential segment with a new project being launched almost every other day. The customer is surely the king with so many choices at his disposal. Two major fallouts of this stiff competition that are surely in favour of the customers are: comparative prices and added facilities like 24-hour power back up, sports and recreation facilities, security and eco- friendly construction. For the maximum contentment of customers the builders and colonisers are promising more and more facilities at a reasonable cost.
Realty bytes
Auction
MOHALI: Punjab Infotech has earmarked and developed a commercial site in the heart of ELTOP IT Park in Phase VII Industrial Area, Mohali, spread over an area of 2.15 acres, which would be put to auction on November 3. The entire commercial complex comprises 20 SCOs, measuring 90.75 sq yd each, and 16 single- storey shops (mezzanine) measuring 44 sq. yd each. Currently 10 SCOs and booths have been put up for auction.
TAX TIPS
LTCG calculation
Q. I am a senior citizen. I had purchased a residential plot in July 2003, for Rs 5, 60, 000 and sold the same in August 2010, for Rs 12, 94, 000. Kindly calculate the long-term capital gain and the tax payable thereon. What is the time limit for depositing tax on long-term capital gain with/without penalty?