M A I N N E W S
Cornered, Chavan offers to resign
Housing Scam: Sonia sets up two-member probe team
Vibha Sharma/TNS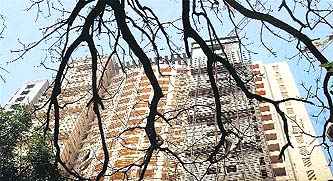 In eye of storm: Adarsh Housing Society. — PTI


Pranab Mukherjee and AK Antony, the key troubleshooters of the party, to file the report
Sonia asks the duo to look into the possible involvement of other senior leaders in the scam
Chavan, however, has got a breather as any decision will be taken only after the probe report
Sonia is upset, especially by the fact that three of the CM's relatives were allotted flats
New Delhi, October 30
Summoned to 10 Janpath after his justifications on controversial Adarsh cooperative society on Friday failed to impress either the people or the party high command, embattled Maharashtra Chief Minister Ashok Chavan today offered to resign from his job and left his fate in the hands of party president Sonia Gandhi.
"I offer my resignation to you. I leave it to you, take a final view on this," Chavan told mediapersons about what he told the Congress president after more than an hour-long meeting with her.
Defence Minister AK Antony, who is also in charge of the Congress affairs in Maharashtra, and Sonia's political secretary Ahmed Patel were also present when Chavan met her.
Sonia, in the meantime, has decided to set up a two-member fact-finding team headed by Finance Minister Pranab Mukherjee and Antony, entrusting the key troubleshooters of the party to file a comprehensive report on the housing society scam in Mumbai.
Going beyond Chavan, they have been asked to look into possible involvement of other senior leaders, including former chief ministers and now union ministers Vilasrao Deshmukh and Sushil Shinde.
The party leadership is visibly displeased with his perceived lack of propriety in Adarsh imbroglio and Chavan is the first political causality. However, he seems to have earned a breather for the moment.
The party will take any decision on the future course of action after receiving the report, AICC media in charge Janardhan Dwivedi said after Chavan met Sonia and placed before her facts relating to the housing society.
Sources said Chavan's continuance had become untenable and he was summoned to give him a feel of how the party viewed the issue.
Sonia is believed to be deeply upset over the entire affair, especially the fact that three of the chief minister's relatives were allotted flats in the society, meant for the families of Kargil war victims.
She has also consulted Environment Minister Jairam Ramesh over environmental clearance to the building and held consultations with Union Minister Prithviraj Chavan, who also hails from Maharashtra.
"Party is trying its best to do damage control. But the BJP is baying for Ashok Chavan's blood, questioning his and party's moral ethics. Both Prime Minister and Sonia have always emphasised on propriety in public life and being responsive toward sentiments of the people," sources say, adding that the party was now waiting for Prime Minister Manmohan Singh to return from the three-nation tour.
How long will Ashok Chavan's life line be depends upon when the committee submits its report, which sources say can be soon, even within the next 48 hours.
The controversy could not have been more ill-timed for the Congress. There is an AICC session on November 2, followed by winter session of Parliament. The winter session of the Maharashtra Assembly is also due and to top it all is the US President Barrack Obama's visit to Mumbai. Sources say it is not possible to change guard in Maharashtra at such a crucial moment.
While establishment of the committee has helped Congress buy some time, the dilemma before the party is not just whether or not to accept Chavan's resignation a decision also has to be taken who is best suited to handle the political situation for the party in Maharashtra.
While Deshmukh and Shinde could have been strong contenders but they are believed to be equally involved in the scam. Deshmukh and Shinde were both at the centre stage of party politics in Maharashtra when the scam was unfolding.
Other name doing the rounds is that of Prithviraj Chavan. Prithviraj sports a clean image but the party is not sure how well he will be able to handle alliance partner NCP and old warhorse and Maratha strongman Sharad Pawar.
"While Gurudas Kamat, a senior non-Maratha leader, is also an option but with Pawar one cannot take chances," senior party leaders believe Ashok Chavan became chief minister on December 8, 2008.
He has maintained that the land on which the housing society had come up belonged to the state government and suggested that there were other chief ministers who were involved in decisions taken on the project.