Tandoori aloo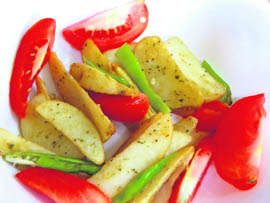 Ingredients
Potato wedges (You can use homemade wedges too, just take even-sized potatoes and donít peel.
Wash well, and cut after pat drying.) 1 packet
Pepper powder 1 tsp
Cumin seeds 1/2 tsp
Red chilli powder 1/2 tsp
Clove powder 1/2 tsp
Cardamom powder 1/2 tsp
Rock salt 1/4 tsp
Dried mint leaves, crushed 1/4 tsp
Lemon juice/ dried pomegranate seeds 1 tsp
Salt to taste
Oil to pan-grill (if pan grilling)
Method
Preheat the oven to 200 degrees C. Place the readymade wedges on a baking tray. Bake for about 15 minutes till golden. Drizzle with powdered spices and sprinkle the lemon juice. Alternatively pan grill on a thick bottomed non-stick pan till done to taste. If not paranoid about health, you can take an avoidable shortcut and at a pinch even deep fry and remove excess oil using kitchen towels. Still beats the so-called tandoori aloo in the market hollow. Enjoy.