Light moments

Jyothi Venkatesh chats up stars about their commitment to a pollution-free
Diwali, lighting up the lives of the underprivileged and more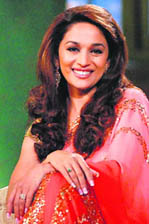 Madhuri is all for bursting crackers but with caution

East or West, Diwali with zest!
z MADHURI DIXIT

I continue to celebrate Diwali the same way I used to spend it when I was not a star. I enjoy celebrating this festival at home in the USA.
Stardom and motherhood have not made even an iota of difference to me as far as Diwali is concerned. Earlier, I used to draw rangolis outside my house in Andheri. Now, I draw them indoors. While earlier I used to light fireworks myself, now I prefer to watch others, including my husband Dr Nene, burst crackers.
During my heyday, I used to spend some time on puja in my hotel room if I happened to be shooting abroad. Ten years ago, I had to celebrate Diwali while I was shooting in Manali and missed my family and friends in Mumbai. My most memorable Diwali was when I had injured myself badly while trying to light a cracker. It was good that I was saved on time, otherwise I may have ended up turning bald.
Although I celebrate Diwali with fanfare, my favourite festival is Ganeshotsav. When the Latur earthquake claimed precious human lives some years back, we celebrated Diwali on a low scale. In fact, all should contribute towards our underprivileged brethren. At least, I make it a point to donate whatever little I can to help the needy people.
I never gamble nor do I like people who do so. How can you gamble and insult Goddess Lakshmi, whom you worship on Diwali night?
Also, I do not agree with people who say that you should not light crackers. Kids enjoy Diwali only by bursting crackers. But you should be cautious enough to ward off any kind of calamity.
As usual, Diwali will be celebrated by the stars of tinsel town with great aplomb, whether the films released in recent times have clicked or hit the dust at the box office. Actors voice their commitment to curbing noise pollution. A vast majority of them confided that they would rather spend money on the poor and downtrodden than waste it by splurging on firecrackers. Jackie and Madhuri prefer to be home birds and celebrate Diwali with their families. However, the fervour that was there earlier in Bollywood seems to be missing now, may be because inflation has set in and the cost of living has gone up. Besides, the fact remains that today's breed of stars today believe in chilling out with their buddies during Diwali, especially if they happen to be bachelors like Salman Khan or single girls like Deepika Padukone.
| | |
| --- | --- |
| | Priyanka is not against spending on fireworks, for the scriptures say these drive away evil spirits |
Cracker of a gal
z PRIYANKA CHOPRA
When it comes to celebrating Diwali, I am like any other normal person. I get up early in the morning, have a nice oil bath, wear new clothes and make rangoli. In the evening, we play cards and do Lakshmi Pooja. I play only for Rs 100 to Rs 200. I am very frightened of crackers and atom bombs. Rather, I prefer lighting charkhis, anaars and sparklers.
I do not think that spending on crackers and other fireworks is a waste of your money because our scriptures say that crackers are fired on Diwali to drive away evil spirits. But I feel that instead of wasting a lot of money on crackers, one should allocate some amount to help the poor and the needy, so that their Diwali also becomes as memorable as ours.
Diwali is a festival I look forward to eagerly because it gives me an opportunity to be with my family. I celebrate it with my parents and brother. I make it a point to visit all my friends on Diwali. And, I also make it a point to eat a lot of sweets!
Fear of fireworks
z JACKIE SHROFF


Jackie Shroff makes it a point to donate for victims of any calamity

I have never been keen on spending money on crackers during Diwali. I have always detested lighting crackers because even as a child I was afraid of them and it is the same case even today. Now, I make it a point to celebrate Diwali with my family ó my wife Ayesha, son Tiger and daughter Krishna. We distribute sweets in the building and generally live it up on Diwali night because it comes only once in a year.
I can never forget the Diwali that I had to spend in jail about 30 years ago. I was roaming around the Teen Bathi area and along with my friends when I was rounded up by the police and put in the lock-up. My parents also were scared about the consequences. That was indeed a dark Diwali for my family.
Though I like to spend Diwali only with my family, I do make it a point to go out and meet my friends. I think people should not waste their hard-earned money lighting crackers. One should donate the money to deserving causes and help people in distress.
Being good to others is godly. I have always made it a point to donate generously to victims of any calamity, which strikes the nation in the pre-Diwali period, and bring light, hope and cheer into the lives of my lesser fortunate brethren in this world. My message to my fans is to make Diwali less noisy and spread cheer around.
No to noise
z HRISHITAA BHATT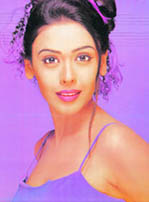 Instead of wasting money on crackers, Hrishitaa feels itís better to spend it on improving the lot of beggars and street urchins
I spend Diwali every year by exchanging sweets in the neighbourhood and by worshipping Goddess Lakshmi. I look forward to the festival because it is that time of the year when you get to wear new clothes. I utilise the opportunity to shop till I drop. In the evening, I make it a point to visit all my friends and relatives and exchange pleasantries and gifts.
As a matter of fact, I am practical when it comes to spending my hard-earned money on crackers during Diwali. I feel that burning your money on crackers is just a waste. Instead of doing so, you can spend it on improving the lot of the beggars and the street urchins, who do not have the means to get their next meal. Besides, I also feel as a conscientious citizen you should not endanger the lives of your fellow human beings by contributing to the pollution in the city. If you burn crackers and atom bombs, automatically the decibel level increases and there is a lot of smoke in the air.
My forthcoming film is Friends Forever, a part animation film directed by Soumitra Ramade, who had earlier directed Jajantaram Mamantaram.