The starry night
The concluding day of the CFW was high on Bollywood biggies and haute couture

He is the realistic filmmaker; is host to many controversies with each of his releases and always has room for more. Madhur Bhandarkar doesn't like thing sugar coated. "I want my audience to relate to the reality my films, which inspired by the flight of life," says the filmmaker as his introductory statement. In the city to walk the ramp for designer Manali Jagtap at the concluding day of the Blender's Pride Chandigarh Fashion Week, Madhur wasn't the filmmaker, but a showstopper.
Photo: Pradeep Tewari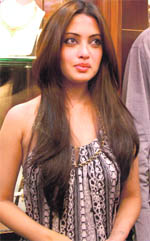 Common SENse
Actor Riya Sen believes in investing wisely-be it her talent or money while buying gold
Pan-caked kissed faces, eyelashes double than the normal length, hair extensions beaming under the original layers, a nose job here, a facelift there, some extra pout, a kiss of botox-name one glam doll who does not wear the entire vanity on her face. Let us help you with one name-Riya Sen. The bong beauty floors all and sundry in the city with her natural beauty on Sunday where she turns up for the launch of Gold Sukh's new outlet in Sector 34. Glistening, shinning like a thousand-watt bulb and our every effort to find out any trace of light brush strokes on her peach and gossamer skin fails. After all it's not everyday you come across a celeb sans makeup.
Photo: Pradeep Tewari

Victoria's angel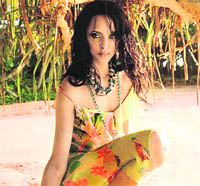 Monikangana Dutta, who will debut in Bollywood with Sanjay Leela Bhansali's Guzaarish, is all set to join the league of supermodels Heidi Klum and Gisele Bundchen, as she has been selected to become a Victoria's Secret Angel. "I have not given up modelling. I have been selected as one of the six Victoria's Secret Angels," she said. Monikangana, who earlier appeared in fashion magazines like Elle and Vogue, is the first Indian model to become an Angel (main model) of the high-profile lingerie brand. The others include the likes of Brazilian model Alessandra Ambrosio and Miranda Kerr.

Monikangana Dutta

Break even
After shaking a leg with singer Kylie Minogue and rapping with Snoop Dogg, Bollywood actor Akshay Kumar is set to collaborate with rapper Christopher Brian Bridges, better known by his stage name Ludacris, for his Indo-Canadian venture Breakaway. "It's very exciting to collaborate with Ludacris for the music video of Breakaway. It's great to have the opportunity to work with such great artists from across the globe. Ludacris is going to make the music video one to watch out for," Akshay said in a statement.
Domestic bliss for Kate
Adding fuel to speculation that they may soon announce their engagement, Prince William's ladylove Kate Middleton has quit her job as a photographer. According to a publication, Kate has given up her job at her parents' multi-million pound event supplies firm Party Pieces; her final assignment was shooting the Christmas catalogue at the firm's warehouse in Berkshire.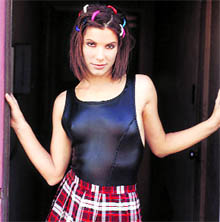 Looking for a new love
Oscar-winning actor Sandra Bullock is ready to fall in love once again following her recent divorce from husband Jesse James. The 46-year-old actor, who split from James earlier this year, amid claims that he had affairs with a string of women, is looking to move on to another relationship, a website reported. "She's ready to move on. Her son Louis is eight months old now. She's adjusted to motherhood and to being single again. She wants to fall in love. But after Jesse, no bad boys need apply," a friend of the star claimed.



Sandra Bullock

Black magic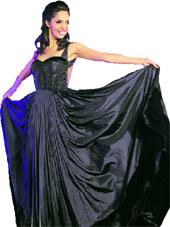 Actor Mallika Sherawat attends the Awards Show and Closing Night Red Carpet and Screening of The First Grader during the 2010 Doha Tribeca Film Festival on Saturday. Reuters photo

In gay abandon
Latin heartthrob Ricky Martin will give his first interview since coming out as gay, to talk show queen Oprah Winfrey. He has been guarded about his sexuality for years and reserved about his decision to become a father, but Martin will tell all to Winfrey, reported a publication online. Martin welcomed cameras to his home for a candid portrait of his home life for the interview with Oprah, in which he talks about his sons and his sexuality for the first time. The 39-year-old Puerto Rican megastar quietly became father of twin boys, called Matteo and Valentino, in August 2008.
Director's hat
Hollywood star George Clooney has signed on to star and direct actor Ryan Gosling in The Ides of March, an "intense tale of sex, ambition, loyalty, betrayal and revenge," based on the Broadway play Farragut North. Clooney and production partner Grant Heslov have collaborated with Farragut playwright Beau Willimon to adapt the 2008 political drama for the big screen, a website reported.
Second in a row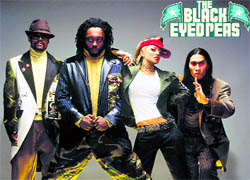 Hip-hop group Black Eyed Peas are facing their second plagiarism lawsuit this year as a Texas songwriter has claimed the band based their hit I Gotta Feeling on one of his songs. Bryan Pringle filed papers in federal court in Santa Ana, California alleging the group based their chart-topping tune on his track Take a Dive, reported a website. The musician says he copyrighted his single in 1998 and submitted demo material to Interscope Records, UMG Recordings and EMI over a period of 10 years.
Tara Zameen Par
Page 3 girl Tara Sharma makes a guest appurtenance in the city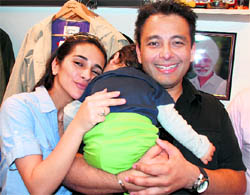 In the end, life is what we make of it. Choices we make, things we prioritise, and how we execute it. Looks like no hard and fast rule to a simple life. The pretty face from Khosla Ka Ghosla and Page 3, Tara Sharma is a perfect example of this. No hard and fast rules, life is beautiful and it is all about following the heart and not looking back on what could have happened. Inaugurating Levis Straus Signature store at Paras Down Town, Zirakpur, Tara is seeing a different facet of life through her kid Zen and husband's eye.

Tara Sharma with family

Colourful mélange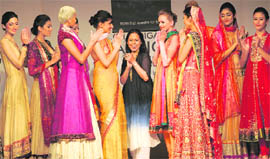 It was the day of glitz and glamour, a grand finale to the the city's calendar Fashion event. The concluding day of the Blender's Pride Chandigarh Fashion week was all about style, sense and sensuality. The opening show of the day saw a collection inspired by the darkness of night. Colourful cocktail dresses and fusion sarees added oomph.

Anju Modi showcases her collection. Photos: Pradeep Tewari

Spice up
Best foot forward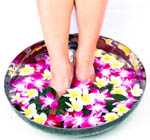 Foot spas are not merely to beautify, but to bring about a sense of well being and relaxation. Specific procedures, products and equipment are used. In this respect, foot spa treatments are different from pedicures. While pedicures are for both feet and nails, spa treatments need not involve nail care. Foot spa includes exfoliation and massage to reduce fatigue, tone the muscles, improve blood circulation and induce relaxation. In some cases, foot spa may also be given in order to detox or relieve pain. Some salons and day spas may combine foot spa with pedicure.
BODY wise
In the green of health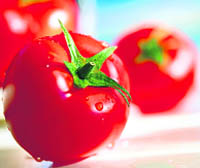 It is important to get daily servings of vegetables as eating them is beneficial to health. Vegetables contain a lot of nutrients essential to the proper functioning of the body. It is recommended that you consume 5-6 vegetables a day throughout the year because they can make you healthier and less susceptible to diseases. The following are some of the healthiest vegetables that you should include in your diet:
Tomatoes: Tomatoes have amazing health benefits. They are a rich source of several nutrients. They are well known for their high vitamin C content, but also contain significant amount of vitamin A, B vitamins and powerful anti-oxidants like lycopene.
Bring on the broccoli


Brit scientists have made a major breakthrough in the fight against cancer by unveiling a supercharged broccoli. It comes after a 26-year slog by the scientists to cultivate a special strain of the humble vegetable. Their breeding programme, started in 1984 using some wild broccoli picked in Italy, has finally come up trumps with a new variety that can also combat heart disease. The new strain boasts twice the levels of a wonder nutrient long known to make broccoli a powerful weapon in staving off cancer and other killer diseases.