It's not cricket: PC to J&K interlocutors
Says they should refrain from ball-by-ball commentary
Tribune News Service & PTI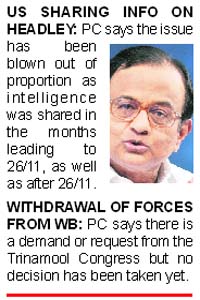 New Delhi, November 1
Union Home Minister P Chidambaram today asked the Centre's three interlocutors for Jammu and Kashmir to refrain from giving a "ball-by-ball commentary" about the progress made in their dialogue.
Presenting his ministry's report card for October, Chidambaram told reporters that after the recent visit of the all-party delegation to the state "there was a sense of expectation that the political problem of Jammu and Kashmir would be addressed in all seriousness".
Chidambaram said the interlocutors had, to some extent, changed the discourse in the state. However, there was a quick word of caution from the Home Minister when he was asked about the claims made by one of the interlocutors about the submission of a peace plan by a terrorist.
"I think media should not ask and interlocutors should not give a ball-by-ball commentary about their dialogue. This is interlocution. This is not a cricket match," he said.
Noting that the situation in the Valley was gradually getting back to normal, Chidambaram, who returned from the state last evening, however, said it was "too early" to say that everything was normal there.
About the US not sharing intelligence related to Headley with India, Chidambaram said the issue had been "blown out of proportion" as intelligence was shared in the months leading to 26/11 as well as after 26/11.
Now, said he, the United States had assured India of sharing the findings of a "full review" on when and what inputs it received about the Lashkar-e-Taiba terrorist.
On Trinamool chief Mamata Banerjee's demand for the withdrawal of forces engaged in anti-Maoist operations in West Bengal, he said, "Yes, there is a demand that the Centre should withdraw the paramilitary forces. But no decision has been taken."