M A I N N E W S

The Last Word


Arundhati Roy
Rebel without a pause
Her first book took her to the top of the literary world. She has not written any work of fiction since, instead she has devoted a formidable arsenal of words to fight for causes dear to her, and inimical to powers that be, raising awareness, courting controversies and even igniting angry protests.
Nirmal Sandhu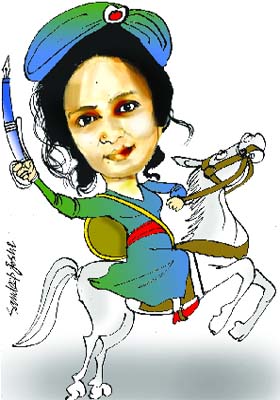 Once again Arundhati Roy has escaped trouble for her not-so-innocuous remark "Kashmir has never been an integral part of India" with the state deciding not to succumb to her itch for publicity. As the state has wisely denied her a chance to project herself as a victim of its power, which she keeps challenging on a regular basis, her October 26 statement from Srinagar "Pity the nation that has to silence its writers for speaking their minds" has become infructuous.
Arundhati Roy often gets away with a near-breach of the law for which an ordinary protester can be hauled up. Of course, India is a grown-up state that not only allows free space to such celebrated activists but also lets them articulate feelings of the marginalised as well as the subversives holding the gun. The state and its institutions have not interfered with her freedom so far except a mild Supreme Court punishment and a small fine.
Why is it that despite having a way with words, Arundati Roy at times fails to put across her message clearly? For one, she suffers from verbosity. The grain gets lost in the chaff. Sometimes she even contradicts herself. Sharing the stage with Kashmir hardliner Syed Ali Shah Geelani, what message does she send to Indians in general and the Kashmiri Pandits in particular? She seems to have forgotten her own earlier words: "The mullahs of the Islamic world and the mullahs of the Hindu world and the mullahs of the Christian world are all on the same side. And we are against them all".
As a liberal thinker she might feel uncomfortable if she were to live as a woman in a state of the mullahas. Remember fellow writer Taslima Nasreen? Contemplating life in independent Kashmir as an intolerable nightmare, she had written: "India needs azadi from Kashmir". Apart from state repression, Kashmir has witnessed some of the worst terrorist crimes in recent times. Yet, she is not outraged when terrorists and Naxalites shed innocent blood.
No matter right or wrong, writers like Arundhati Roy with all their flaws are badly needed in a society where official view is loud and persistent while alternative opinion does not get adequate space. As a public activist, she has brought to middle-class drawing rooms some very serious issues-the Narmada Bachao Andolan in 2001, killings in Gujarat, protests against the US invasion of Iraq, repression in Afghanistan, corporate exploitation of mines, the deprivation of tribal people and Maoist violence. She sees a common links in all these developments. They are all different heads of the same beast ("The Shape of the Beast").
Born in Shillong on November 24, 1961, to a Bengali Hindu father and a Syrian Christian mother, she spent her childhood in Kerala before moving to Delhi, where she studied architecture and wrote film scripts. She starred in an offbeat film "In Which Annie Gives It Those Ones". Rising from a modest background and fighting the tedious daily grind, the 49-year-old writer got financially liberated when her first novel "The God of Small Things" was conferred the Booker Prize. More than the novel her essays on contemporary issues fired Indian elites' imagination. The award brought her wider recognition and provided a platform to hold forth on issues that caught her attention.
Arundhati entered public life as a crusader by excoriating the Pokhran nuclear tests in 1998. "After the Pokhran tests it became quite clear that keeping quiet is as much a political act as speaking. But by remaining silent, I will be walking into a prison of my making", she wrote. The result was her essay "The End of Imagination". She came into the limelight when she joined the Narmada Bachao Andolan for securing shelter for those displaced by the dam.
She soon took up global issues in her self-explanatory essays like "Insult and injury in Afghanistan", "War is Peace", "Stop Bombing Afghanistan" and "The Anti-American". All those opposed to US excesses, particularly Muslims and socialists, admired her for voicing their concerns. In "An Ordinary Person's Guide to Empire" she accuses the US of suffering from a "self-destructive impulse towards supremacy, stranglehold, global hegemony". In an analysis "The Anti-Anti-Americans", Jonathan Tepperman, a senior editor of Foreign Affairs, dismissed her as "the Indian author of one good novel and many peevish essays".
Arundati Roy has no grand thesis to project as an equally fierce American activist Ayan Rand had. While Ayan Rand advocated the virtues of capitalism and individualism, Arundhati Roy speaks vaguely about justice. She projects herself as "a writer for the victims of modernity"-whatever that means. She opposes "corporate globalisation", citing the IMF devastation in Argentina and links it with the US destruction of Iraq to make the larger point that "both are efforts to break open and to control markets".
Her hatred for the corporate world perhaps started with the Enron collapse and she is stuck with that. How do you put all private companies in the same rogue club? IT firms like Infosys have globally projected Indian talent. The Tatas are admired for their social initiatives, contribution to science, art and automobiles. If capitalism is exploitative, as she claims, how does she expect the state-run firms to be people-friendly?
No wonder, she rails against the role of the state, too. She declined the 2006 Sahitya Akademi award for her book "The Algebra of Infinite Justice" because she said the institution was linked to a government whose policies she opposed. Giving reasons for turning down the award in a letter to the Sahitya Akademi, she wrote: "We are witness to police lathi charge on workers in Gurgaon, the killings of those agitating against a big dam in Manipur and of tribals demonstrating against a steel unit in Orissa". Not very inappropriately some of her detractors dub her "the goddess of small causes".
Though some like to see Arundhati as a Leftist, given her sympathy for the underdog and the Maoists, it is unlikely she would work for or in a totalitarian regime that communists states often tend to be. She has perhaps not given thought to an alternative economic or political model if the socialist and capitalist models do not deliver to her satisfaction. That leaves her to be a mere protester. She is anti this and that, but what does she stand for?
Apart from Ayan Rand, other formidable intellectuals too left the ivory tower to take up real-world issues and challenge the might of the state. Algerian writer Albert Camus is one. French philosopher and writer Jean-Paul Sartre is another. They all rose to a high stature because their writings and actual life moved in tandem. They had evolved or believed in a philosophy and lived accordingly. When Sartre refused the Nobel Prize for Literature, there was a definite reason for that. And so was it when he opted for a live-in relationship. If Arundhati Roy is projecting herself in that league, she still has miles to go.
The problem with Arundhati is she fails to carry the reader with her beyond a point. She crosses the line of reason and the reader starts questioning her role. The dam buster is acceptable as far as the need for providing alternative accommodation to the displaced is concerned. But a growing country does need power and hydroelectric power is among the cheapest and so is nuclear power. India needs foreign investment for building infrastructure, creating employment and accelerating growth. Expressing concern at the plight of the tribal people is understandable but speaking about human rights of the gun-wielders while maintaining silence over or grudgingly condemning violence against policemen is not acceptable.
All in all, Arundhati has sharp intelligence, rare courage to take on the establishment and excellent prose writing skills. She seems to have acquired her rebellious streak from her mother, Mary Roy, who had challenged the Syrian Christian inheritance law, earning fulsome praise from the Supreme Court. Arundhati writes of mother-daughter relationship in her own irreverent way: "… the problem is that we are both women who are unconventional; the least we could have done was to be happy. But we aren't. That is what bothers people: the fact that you can make these choices and be happy-like a pair of witches". She has so much to say, but most of it is harsh and delivered in a strident tone. One wishes she could have, like a poet said, "a lover's quarrel with the world".