M A I N N E W S
For him, dancing with Michelle was the best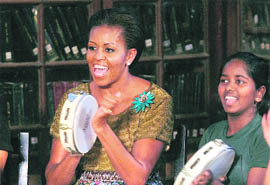 Mumbai, November 6
"She was like a dream for me. I have learnt from her that education is important in life". That was how 13-year-old Johny David summed up his experience of dancing with US First Lady Michelle Obama and playing drums at a function here today.
It was a great experience for 30 children to dance with Michelle Obama and listen to her advice on education.


"Dancing with her was the best part of the programme. I have even taken her autograph, she was very nice," Sagar Jadhav (12), who is associated with the NGO Make A Difference (MAD), said today.
About 30 children danced with the and played hopscotch with the First Lady. She spelt words like Washington DC and happiness and answered questions like Father of India, capital of US which were asked by the children to complete the hopscotch game.
"She was a very kind woman and I never thought I would get chance to meet her. We have heard about her from our father," Jadhav said. Michelle Obama was welcomed by Mumbai University students and vice-chancellor Rajan Welukar. — PTI

(Right) US First Lady Michelle Obama dances with the children; (above) participates in a cultural event. — AFP/PTI