M A I N N E W S
Nikki's relatives celebrate her win
See South Carolina Guv heading to White House
Perneet Singh
Tribune News Service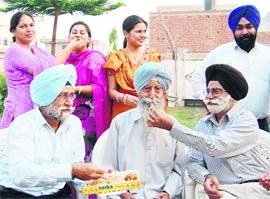 Nikki's relatives celebrate in Amritsar. Photo: Vishal Kumar
Amritsar, November 6
Though the country celebrated Divali yesterday, the Randhawa households at Bebeksar Road and Verka have been rejoicing well in advance since November 3 when the news of Nimrata Nikki Randhawa Haley getting elected as Governor of South Carolina in the US came in.
Talking to The Tribune at his Verka residence, Nikki's 'Tayajee' (paternal uncle) 89-year-old Preetam Singh Randhawa said, "We are immensely proud of our daughter, Nikki, who has become the first woman of Indian origin to hold the key post of Governor in the US. I received a call from my younger brother Ajit on November 3, informing us about his daughter's commendable feat." Eager to meet her now, Preetam said he had seen Nikki when she visited Amritsar at the age of four. "However, my age doesn't allow me to travel that far. I have seen media reports suggesting she intends to visit Sri Harmandar Sahib and that is the only ray of hope for me." He stays with his elder son Kanwaljeet Singh Randhawa at Verka in Amritsar.
Similarly, the family of Paramjeet Singh Randhawa, the younger son of Preetam Singh, is elated at her success and is planning to throw a big party shortly to celebrate the occasion.
"If Obama can, Nikki can too," chipped in Paramjeet's son Mandeep Singh. Paramjeet along with his wife Jasbir Kaur plans to attend Nikki's swearing-in ceremony as the South Carolina Governor on January 1. "We have already got the sponsorship documents and will appear for interview for the US visa on November 12," he averred.
Recalling the days he spent with Nikki's parents, Ajit Singh Randhawa and Raj Randhawa, Paramjeet said her father was working as a teacher at Punjab Agriculture University (PAU), Ludhiana, in late 1950s, while their ancestral house was at Pandori Ransingh village in Tarn Taran district.
According to him, Ajit Singh worked in the PAU for a couple of years before heading to Canada for Ph.D and finally shifting base to the US. He said Nikki's family also stayed at her maternal grandparents' house at Katra Dal Singh area in Amritsar for some time and her brother Harmeet Singh alias Mitti was born in the Holy City.
He said the five-storeyed house near the Golden Temple later came under the Galiara Project, which saw demolition of many buildings and decongestion of the area around the shrine. He recounted that Ajit Singh last visited Amritsar in 1990s when he was here for receiving the claim of the Katra Dal Singh residence. Ajit Singh also owned 7 acres of land at Bairowal village, which got involved in a legal tangle and later Paramjeet sorted out the matter on his behalf. Paramjeet retired as the principal of Government Senior Secondary School, Chaba, in 2008. He has two sons and a daughter.