Fortune built on a simple idea
Martin Hickman
THE autobiography of a cravat-wearing furry mammal is poised to become one of the publishing sensations of 2010, having already attracted more advance sales than the life story of Tony Blair.
Aleksandr Orlov's A Simples Life: My Life and Times is the latest moneymaking venture from the meerkat star of the Compare the Market TV adverts, who has revitalised a business and made a fortune conservatively estimated at £10m.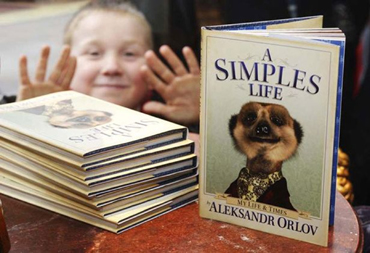 Amazon said pre-orders of the 127-page book, picturing the Orlov family tree and his relatives' historical struggles, had outsold the former Prime Minister's tome and a slew of newly released books by celebrity authors. Before its publication last week, it had advance sales 165 per cent higher than Katie Price's fourth autobiography, You Only Live Once.
"The demand for his book is so great that he has generated more pre-orders sales than those achieved by Tony Blair's A Journey and more than double the pre-orders of Cheryl Cole, Russell Brand and Dannii Minogue for their recent releases," said Neil Campbell, Amazon UK's books manager.
Ebury Press, the Random House inprint behind the £9.99 autobiography, said: "All signs so far point towards it being a very successful book."
Its strong start suggests the British public has yet to sate its appetite for meerkats, the members of the mongoose family that populate Botswana's Kalahari desert, and for Aleksandr, who speaks with a Russian accent.
First seen in January 2009, his adverts see him chiding customers for confusing his Compare the Meerkat website with Compare the Market, which sells insurance, energy and mobile phone tariffs.
Since the adverts first aired, Compare the Market's owner, BGL, has been laughing all the way to the bank. Site visits have risen from 50,000 a month three years ago to more than 2 million a month today. It is now one of the top three price comparison sites, with 25 per cent of the market.
BGL has not disclosed how much money Aleksandr has made. However, in June it announced a 16 per cent jump in profits—a rise of `A39.92m—which it said had been "largely driven" by Compare the Market's growth. Given that Aleksandr was boosting traffic to the site for the five months before those results, and for the four months after, he may have made the company double that. And that was before his book was published.
The work sketches out the narrative of his forebears' beetle-fuelled escape from the Kalahari, the beginnings of his meerkat-comparing business in Moscow, his dabbling in the theatre and a glimpse "into the home and day-to-day living of a billionaire meerkat entrepreneur".
Graeme Neill, news editor at The Bookseller, said such novelty hits often did well at Christmas, citing recent successes Where's Bin Laden, Ma Broon's Cookbook and Simon's Cat.
"All of these books are great, quirky presents," he said. "They're like the last thing you buy for people on top of their main present. I would be surprised if it's the best-selling book this Christmas. But it has enormous potential – the meerkat ads have incredible brand recognition, and the publishers will benefit because every one that comes on will be like a free advert for the book. It could sell in the tens of thousands." — The Independent