Zestful Zohra
Zohra Segal's Close-up — Memoirs Of A Life On Stage & Screen relives
the turning points of the actor's life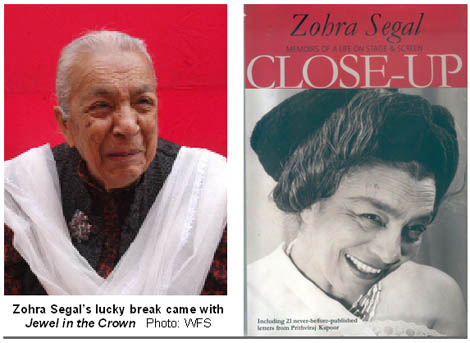 IN April 1981, I was very lucky to get this compact and pretty attic flat in Crouch End, Hornsey, N8, belonging to the Hornsey Housing Trust. I had been familiar with the area since 1970, as it was adjacent to our Highgate flat, and I often came to Crouch End to buy the Jewish chola bread, as well as borrow books from the Haringay Library. Kiran's wedding cake was also made by one of the bakeries in this area.
There was a gorgeous view from my kitchen window of 'Alley Pally' (Alexandra Palace) in the distance, with the entire Muswell Hill valley in between. Two large skylights, one in the kitchen and one in the bathroom, made the place look very light and airy, the two rooms being just about sufficient for my needs. The rent was very reasonable and all the other eight residents pensioners like myself, most friendly and helpful. We had a caretaker living next door who kept the common passages and staircase clean, and who very kindly looked after my plants and mail when I was away, either on holiday in India or on work, filming outside London. All such amenities as the doctor, the post office, the bank, the shops, the library, etc. were within easy walking distance, and there were some lovely walks in the neighbourhood. The connecting Underground station of Finsbury Park was easily reached by three different buses, from where both the Victoria and the Picadilly lines connected you to Central London, reached within 10 minutes.
My lucky break came with Jewel in the Crown. There was a revival of interest in the Raj — I think partly because of M.M. Kaye's The Far Pavilions — and the Granada Television decided to film a multi-episode series of Paul Scott's The Raj Quartet. They called it Jewel in the Crown, a reference to India, of course. It was my first real break and it put me in another class altogether. Although the series was shot from February, 1982, to June, 1983, my own shooting took only a few weeks in India, and two trips to Manchester where the Granada studios were located. I was cast as Lady Lili Chatterjee, and sometimes while filming in Mysore and Manchester, I would look at my reflection as I passed through the corridors and feel quite thrilled at what I saw. I was made up as a wealthy matron, grey hair parted on the side, lipstick, ring on my fingers, snowwhite sari, living in a large bungalow. Lots of servants. I was to the manner born — opinionated and bossy. After all, I said to myself, I am aristocratic and I know several princesses and nawabs, so the role suited me to a T.
But when I saw the televised premiere on January 9, 1984, I was horrified. I hated myself as Lady Chatterjee. My dialogue was artificial and brittle and my appearance, far from being aristocratic, make me look like a tarted-up ayah. At the end of the first episode, I undressed and got into bed. With tears in my eyes I said to myself, "If this is all you are capable of, Zohra Segal, it would be better if you gave up acting!"
But there's always a silver lining, and after Jewel in the Crown, my fees went up and I began receiving offers without having to try for them. Following Jewel..., I acted in The Honorary Consul, Courtesans of Bombay, Arthur Joffe's Harem, Caravaggio and The Red Bindi. Theatre work, too, continued apace, with Sue Townsend's The Great Celestial Cow at the Royal Court, and a tour in the Midlands and Scotland with Our Own People, and Hedda in India at The Upstream Theatre.
I had never worked so busily as I did from February 1987 onwards. While I was still shooting the last episodes of Never Say Die, a six-episode series (February 9 - April 2) for Channel 4 produced by Humphry Barclay and directed by my very dear friend, the actress Lou Wakefield, the second series of Tandoori Nights was launched by the Picture Palace Productions of Malcolm Craddock. The actual filming began on April 6 and finished on May 19, which meant that while I was on location on Wendle Valley Hospital in Mitcham, Surrey, for Never Say Die, when I was not required in between shots I would be learning my lines for Tandoori..., perched up on a chair in the costumes van. And even when the shooting of Never`85 had been completed, I had to return to Mitcham on April 27 for a Channel 4 interview with Andrea Collette and Caroline Pick, filmed in the hospital canteen to give it the appropriate atmosphere of the series - the programme being Right to Reply about elderly Asian actresses' role in British television. — WFS
(Excerpted from Zohra Segal's Close-up — Memoirs Of A Life On Stage & Screen;
Published by Women Unlimited; Rs 375; Pages 291)