A world transplanted
NRI and Indian filmmakers, who make films in English, Hindi or any regional language, generally present a myopic picture of the Indian diaspora that does not go with the reality. Shoma A. Chatterji explores this unrealistic projection of Ďdesií life abroad

POPULAR cinema is in the business of selling dreams, not the truth, they say. But do dreams need to be so distanced from the truth that it gives not only a warped and distorted image of reality but also projects an image that is stereotyped and fake? Looking at some of the films made with so-called Indian diaspora in mind it seems so.
Today, the Indian diaspora stands at an awesome 23 million. It contributes both financially and intellectually to the development and strengthening of the country. Within the diaspora communities, there are as many differences as there are between and among ethnic and regional identities within India. Bollywood films are screened throughout an ever-expanding South Asia, North America, the Caribbean, the Middle East, East Africa and elsewhere. Ways in which the diaspora communities are treated both by the country of adoption and the mother country also differ. In general, Indian cinema has till date failed to give these differences much consideration.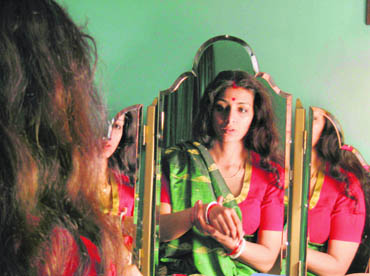 Based on Jhumpa Lahiriís story, Mira Nairís The Namesake portrays the real world of common people living abroad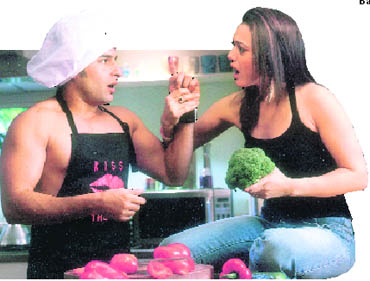 Salaam Namaste, in which the hero is a chef and the heroine a radio jockey, explores the diaspora identity of Indians settled abroad

The dislocating effects of globalisation, migrating cultures, and the postcolonial should ideally be the subject of diasporic cinema. This category of films cannot be linguistically or culturally monolithic. But take a closer look at British-Asian films or American-Indian films or even Indian films shot abroad revolving around Indians settled abroad, and you will find that these films are both linguistically and culturally monolithic.
Whether it is Aditya Chopraís Dilwale Dulhaniya Le Jayenge, Karan Joharís Kabhi Alvida Na Kehna, Rakesh Roshanís Kaho Na Pyar Hai , or even Gurinder Chadhaís Bhaji on the Beach, and later Bend it like Beckham, the Indian diaspora projected is predominantly Punjabi, affluent, traditional and loud. The typical celluloid NRI family lives within an extended family in large houses and has a table spilling over with Punjabi delights. There is always an engagement ceremony or a wedding that allows glamour and razzmatazz to make their entry with song-dance numbers performed mostly in groups.
The elders speak English with a heavy Punjabi accent peppered with Punjabi words. They dress traditionally, too, and celebrate all Punjabi festivals with appropriate colour. The youngsters, born and bred in the adopted country by parents are at home with local culture. They usually wear western clothes, follow a more westernised way of life and feel pressurised by the elders to follow Ďtraditioní. This leads to the usual conflict between the two generations, along the lines of choice of partner, morals, sexual mores, way of dress ó-especially for the girls, choice of vocation and so on. So, where is the difference between a Punjabi family in a Punjabi city or village back home and a Punjabi family in Southall or Canada or in the US?
There has been very little exploration of other Indian ethnic groups settled abroad. Even the South Asian immigrantís representation has remained confined largely within the Punjabi identity or the Bangladeshi or the Pakistani, which is not very different from the South Asian, who lives back home and did not migrate abroad. Thus one has to sadly accept the one-sided projection of the diaspora Indian identity as basically Punjabi. Where is the Maharashtrian, for example? Or the Keralite? Or the immigrant from a Rajasthani city? Or even from Gujarat that forms a prominent presence in US, UK and Canada?
Of late, however, a group of young, urbane filmmakers have given a different taste to the multiplex audience with a plethora of diaspora films like Freaky Chakra, Leela, American Chai, American Desi, Cheeni Kum and so on. Freaky Chakra presents a Mrs. Thomas (Deepti Naval), who is not from the Punjabi ethnic community. American Desi, directed by David Kaplan, portrays a South Indian, Krishnagopal Reddy, raised in the US, and also features a sprinkling of other ethnic Indian NRIs. Kris falls in love with Nina Shah, a Gujarati and learns to perform the dandiya to impress her! Among these, the most outstanding presentation of the NRI is R. Balkiís Cheeni Kum that featured the lead actors Buddhadev Gupta (Amitabh Bachchan) and Neena Verma (Tabu ) settled in London as belonging to`A0the Hindi-speaking community.
The story of diaspora goes back to 1965, when the US passed a new Immigration Act that removed national-origin quotas and led to a rise in the number of immigrants from non-European countries. This meant that a lot of young, hungry, ambitious South Asians came to the states around that time. These South Asians (desis, as they are called) had kids who are now in their twenties and thirties. These children assimilated themselves into American culture, and began to walk away from the doctor/lawyer/engineer path to success that their parents tried to follow. Some even became actors and comedians. Not much of this is represented in films exploring the diaspora identity. Salaam Namaste is an exception, however, where the hero is a chef, the heroine is a radio jockey and they begin to live together in Australia. The female cabbie (Deepika Padukone), who drives all night and studies in the daytime in Bachna Ai Haseeno is another example.
As if in response to these questions, we will soon see a film called Life Goes On, written and directed by Sangeeta Datta, who belongs to the diaspora and is settled in London. Life Goes On is an English-language film, shot entirely in London. Alongside Sharmila Tagore, Girish Karnad, Soha Ali Khan and Om Puri, the film features a generous dose of British-Indian actors, who truly represent the Bengali and Bangladeshi diaspora in London. The characters span three generations and are, therefore, representing the atypically affluent, cultured and educated upper-class Bengali diaspora.
In terms of values and identification, there is a shift from national responsibility to familial loyalty to individually chosen habitats. Is it a Ďportableí identity? Or, is it an identity in flux, always changing, seeking choices between two roots, the root one has come from and the new root one has migrated to, out of choice, need or compulsion? Or is it the conflict of the second-generation Indians living abroad who feel estranged by their parentsí traditions and the idea of return and seek to root themselves permanently abroad?
Mira Nairís The Namesake based on Jhumpa Lahiriís story of an America-born boy slowly feeling the pull of the roots after his fatherís death perhaps best represents this conflict. It is miles away from the naachna-gaana portrait of the world of the NRIs that most Bollywood films showcase. It is this world of common people living abroad that truly diaspora films need to look at. ó TWF